Content Credit; www.GAA.ie
All-Ireland SFC Group Three
Roscommon 1-21 Sligo 1-11
By Ian Cooney at Dr Hyde Park
Enda Smith spearheaded Roscommon's final quarter surge as Davy Burke's charges came good to see off Sligo by 10 points in the Dr. Hyde Park sunshine.
Alan Reilly's 49th minute goal threatened to throw the cat among the pigeons, reducing the Rossies' lead to just two points.
But any fraying nerves among the home side's supporters were soon eased as Roscommon responded superbly, kicking 1-7 in the final quarter to put themselves on top of the table on scoring difference from Dublin heading into the final series of matches.
The goal came from Dylan Ruane who netted his first championship goal with seven minutes remaining after being picked out by Smith's superb pass.
The opening half was characterised by poor shooting from both sides. Sligo, with the wind behind them, shot 10 wides, while Roscommon missed the target six times.
Diarmuid Murtagh and Niall Murphy swapped frees inside the first 11 minutes, but Roscommon should have goaled when Murtagh was played straight through on goal, only to be denied by a smart save by Sligo goalkeeper Aidan Devaney.
Seán Carrabine, from a long-range free, and Cian McKeon exchanged points before Murtagh (free) and Enda Smith edged Roscommon back in front.
Murphy reduced the arrears with his second free of the afternoon before Smith, Diarmuid Murtagh and Ben O'Carroll, who was constantly making himself available for possession, left Roscommon 0-7 to 0-3 ahead after 25 minutes.
A score by Carrabine on the run from 40 metres was followed by an excellent effort from Alan Reilly to leave just two between them.
Colin Walsh fisted his first score in championship football, but Reilly was on hand again to land a decent point to leave Sligo trailing 0-8 to 0-6 at the break.
Early points from Enda Smith and Ciaráin Murtagh (free) suggested that Roscommon were going to assert their superiority, but the impressive Reilly and Carrabine replied to leave Tony McEntee's side still very much in contention.
Another flurry of Roscommon scores from Cian McKeon, Ciaráin Murtagh and Dylan Ruane left the Rossies five points to the good. But they were rocked back on their heels when substitute Mark Walsh set up Reilly for a well-worked Sligo goal.
But the Roscommon response was excellent as they kicked 1-3 without reply — the goal coming from Ruane after being picked out by a superb Smith pass.
Sligo were struggling for oxygen now, and although Murphy added two late points, Donie Smith came off the bench to kick a couple of scores for the Rossies.
Diarmuid Murtagh also tagged on two late points before Enda Smith crowned a superb individual performance with his fifth point of the afternoon to leave his side eyeing up a place in the knockout stages.
Scorers for Roscommon: Diarmuid Murtagh 0-6 (4fs), Enda Smith 0-5, Dylan Ruane 1-1, Cian McKeon 0-3, Ciaráin Murtagh 0-2 (0-1f), Donie Smith 0-2, Ben O'Carroll 0-1, Colin Walsh 0-1
Scorers for Sligo: Alan Reilly 1-3, Niall Murphy 0-4 (2fs), Seán Carrabine 0-3, Nathan Mullen 0-1.
Roscommon: Conor Carroll; Colin Walsh, Brian Stack, David Murray; Niall Daly, Eoin McCormack, Conor Daly; Eddie Nolan, Ciarán Lennon; Ciaráin Murtagh, Enda Smith, Dylan Ruane; Cian McKeon, Ben O'Carroll, Diarmuid Murtagh.
Subs: Niall Kilroy for Conor Daly 45, Donie Smith for Lennon 48, Richard Hughes for McCormack 62, Conor Hussey for Niall Daly 63, Conor Cox for Ruane 65.
Sligo: Aidan Devaney; Evan Lyons, Eddie McGuinness, Nathan Mullen; Paul McNamara, Brian Cox, Luke Towey; Cian Lally, Paul Kilcoyne; Finnian Cawley, Seán Carrabine, Alan Reilly; Luke Nicholson, Paddy O'Connor, Niall Murphy.
Subs: Pat Spillane for Cawley HT, Mark Walsh for Nicholson h-t, Mikey Gordon for O'Connor 56 Keelan Cawley for Towey 65, David Quinn for Carrabine 70.
Referee: Conor Lane (Cork).
Applications are now welcome for the role of GAA Games Development Coordinator in County Roscommon.
Role Summary
The role holder will be responsible for the delivery of GAA games development policy and related programmes as contained in the county coaching and games development plan in local clubs and schools (Primary and Post Primary) within a geographic area of a county. The role will also focus on establishing self-sufficient and sustainable clubs by building capacity and capability within the volunteer structure to deliver a games development programme.
A key target associated with the role will be the growth and retention of coach and player participation.
The role holder shall be required to work 39 hours per week, which will include weekends and evenings when required, and the hours may vary depending on seasonal changes.
Principle Accountabilities include but are not limited to:
Operations
Oversee the timely implementation of Association policies, strategies and programmes relating to coaching and games development within a region of a county;
Manage key relations with clubs and schools to support growth and engagement across all Gaelic Games working closely with Camogie, LGFA, Handball and Rounders within a region of the county.
People Management
Coordinate and supervise other county personnel e.g., Participation Officers as required to include responsibility for supporting the formulation of weekly/monthly work programmes with the County Head of Games;
Liaise with and support a team of Coach Developers in the County to deliver coach and referee development;
Coordinate the recruitment, training and deployment of Cúl Camp and Club-School Link coaches within a region of the county.
Leadership
Assist the County Head of Games, County Coaching and Games Committee and key County Officers with the development and implementation of the County Games Development Strategy in the county and associated multi-annual plan;
Ensure the effective use of GAA coaching and games development IT Systems;
Ensure programmes are delivered in line with national games development policy;
Coordinate the delivery of programmes in areas of potential growth and develop strategies to increase engagement in Gaelic Games and specific codes.
Club Support
Coordinate the delivery of a club support programme in clubs to achieve the GAA's goal of creating self-sufficiency and sustainability by building capacity and capability (Club Compass)
Liaise, support and provide on-going training and development opportunities to Club Coaching Officers;
With the Club Coaching and Children's Officer ensure all coaches and volunteers meet the required coaching, vetting and safeguarding requirements;
Assist clubs with the development of player pathways and lead the coordination of participation and retention programmes in the region to help transition as many players and as possible through child, youth and adult stages of the pathway to include coordination and delivery of:
1. Club Nursery Programme
2. Intra and inter-Club Go Games
3. Camps
4. Intra and Inter-Club Super Games
5. Diversity and Inclusion Programmes
6. Intra and Inter-Club Recreational Games for youths and adults
Assist clubs with the development of coach and referee pathways and coordinate and lead the provision of volunteer, coach and referee education in the region;
Coordinate and lead the provision of learning opportunities to club volunteers, club coaches, referees and teachers required to assist the delivery of games development programmes.
Schools Support
Coordinate the delivery of the GAA 5 STAR Programme in primary schools introducing and engaging children in all Gaelic Games;
Coordinate and oversee the delivery of participation and retention programmes in primary and post-primary schools to include:

Intra and inter-school Go Games
Intra and Inter-school Super Games
Diversity and Inclusion Programmes

Assist with the delivery of Transition Year and GAA Future Leaders Programme;
Coordinate and provide on going training and support to a network of Club School Link Coaches.
Talent Academy/Player Development Support
Support the County Head of Games in identification of players and coaches to participate in the county talent academy programme;
Coordinate and organise as required regional/divisional games activities to support the programme;
Guide and support clubs and schools on the delivery of player development supports ensuring coherence with talent academy programme;.
Stakeholder Management
Work closely with the relevant Coaching and Games Development Committees at County level
Work effectively with all key stakeholders (National GAA, Province, County, Clubs, Schools, Third Level, etc) to grow participation and increase retention rates including LGFA, Camogie, GAA Handball and Rounders.
Other
It is a natural function of the role that the role holder is required to work and attend evening and weekend meetings/activities in line with business needs and undertake any other such projects or duties as deemed appropriate by their manager;
The role holder may be responsible for fulfilling a lead programme function within the county games development operation.
Essential Criteria:
At least 3-5 years' experience of working in the GAA or similar sporting organisation (Voluntary or Professional Capacity);
Minimum Award 1 GAA Coaching Qualification;
Appropriate third level qualification (Level 7 NFQ);
Clear and detailed knowledge and experience of the GAA's coaching schemes and initiatives;
Excellent administrative and IT skills with a strong working knowledge of IT related packages and systems;
Exceptional interpersonal skills and a strong ability to work in high-pressure situations;
Excellent communication and presentation skills (verbal and written);
Demonstrably excellent leadership skills and influencing ability;
Excellent ability to manage people/resources and build and sustain good team relationships and manage conflict;
Strong leadership and decision-making skills;
Excellent negotiation skills;
Strong organisational skills and demonstrable ability to effectively manage multiple projects and priorities; hands-on approach to getting things done;
Ability to clearly present goals and direction.
Desirable Criteria:
Experience in managing/supervising staff;
GAA Tutor/Coach Developer qualification;
Third level sports science qualification;
Strong coach education experience.
Other Requirements:
Own car with a full clean driving license;
Have completed the GAA Child Protection in Sport Awareness/Safeguarding 1 programme;
Ability to work and attend evening and weekend meetings/activities in addition to normal day to day activities.
Please note this role is subject to Garda Vetting.
Candidates interested in the above role should apply with an up to date cover letter and Curriculum Vitae on or before 3pm, Friday 02nd June 2023
APPLY NOW – https://www.jobs.ie/ApplyForJob.aspx?Id=2147577
Content credit; www.GAA.ie
Derry 3-17 Roscommon 2-14
By Ian Cooney at Croke Park
Ruairí Ó'Mianain spearheaded Derry's charge for All-Ireland U-20B hurling honours as they made it third time lucky to win the Richie McElligott Cup for the first time at Croke Park.
The Slaughtneil powerhouse hit 1-5 from play to snap Roscommon's brave resistance and claim the honours, having lost the finals in 2018 and 2021.
Derry could afford to hit 22 wides during the contest and that inaccuracy in front of goal threatened to undermine their bid for honours when Roscommon's best player, Paddy Fallon, edged his side in front, 1-13 to 1-12, after 41 minutes.
But, led by Ó'Mianain, Derry hit an unanswered 1-5 to power their way to victory.
Derry made the slicker start and were 1-3 to 0-1 ahead, thanks to Sedgáe Melaugh's third minute goal.
But Roscommon soon settled with Seán Canning, nephew of Galway hurling legend Joe, opening their account in the sixth minute.
The Rossies were well and truly back in contention when Liam Coyle's found the net for his side in the 12th minute.
From there until the end of the half, Mike Fallon's side made better use of the possession that came their way and a rapid-fire double of scores from Fallon and Coyle handed the westerners a 1-9 to 1-8 interval advantage.
Derry wiped out that lead on the resumption with quick points from Keelan Doherty and Eamon Cassidy before Ó'Mianain took the game by the scruff of the neck.
The Slaughtneil player and Paddy Fallon traded score for score, with the Oran player's 41st minute point leaving the Rossies in front.
But Derry applied the after-burners with a couple of points from Ó'Mianain followed by James Friel finding the target from a '65 and a free. Jack Cassidy stretched his side's advantage further before an effort from Keelan Doherty evaded Roscommon goalkeeper Jack Ryan and ended up in the net.
Ó'Mianain capped a terrific individual performance with a goal before Canning rattled the net for a consolation green flag for Roscommon.
But Derry were soon celebrating a historic first title at this grade as Roscommon suffered a second successive defeat in the final.
Scorers for Derry: Ruairí Ó'Mianain 1-5, James Friel 0-5 (3fs, 2 65s), Keelan Doherty 1-1, Ryan Henry 0-3, Segdáe Melaugh 1-0, Jack Cassidy 0-2, Eamon Cassidy 0-1.
Scorers for Roscommon: Paddy Fallon 0-9 (7fs), Séan Canning 1-1, Liam Coyle 1-1, Chulainn Dowd 0-2, Ryan Conlon 0-1.
Derry: Cathan McElhinney; John McAllister, Mark McEldowney, Aimon Duffin; Niall McGonagle, James Friel, Callum O'Kane; Ruairí Ó'Mianain, Eunan Boyle; Jack Cassidy, Segdáe Melaugh, Odhrán McEhinney; Ryan Henry, Eamon Cassidy, Keelan Doherty.
Subs: Conor Murtagh for McElhinney 37, Rónán McNamee for Melaugh 60, Conan Bradley for Henry 60.
Roscommon: Jack Ryan; Thomas Fleming, James Dillon, Tomás Tiernan; Tommy Morris, Mikey Lohan, Micheál Hussey; Keelan Ryan, Ryan Conlon; Cormac Mulry, Finn Killion, Chulainn Dowd; Liam Coyle, Patrick Fallon, Seán Canning.
Subs: Ben Kelly for Hussey 17, DJ Hession for Mulry h-t, Aidan Hoare for Ryan 58, Conor Kavanagh for Dowd 58, James Mannion for Tiernan 59.
Referee: Niall Malone (Clare).

Pádraig Pearses are the 2023 Roscommon Feile Division 1 champions after defeating Roscommon Gaels by 2-13 to 0-04 in the final in Ballyforan.

Pearses' captain Michael Brooks received the winners shield from Roscommon Minor Chairperson, Shay Galvin.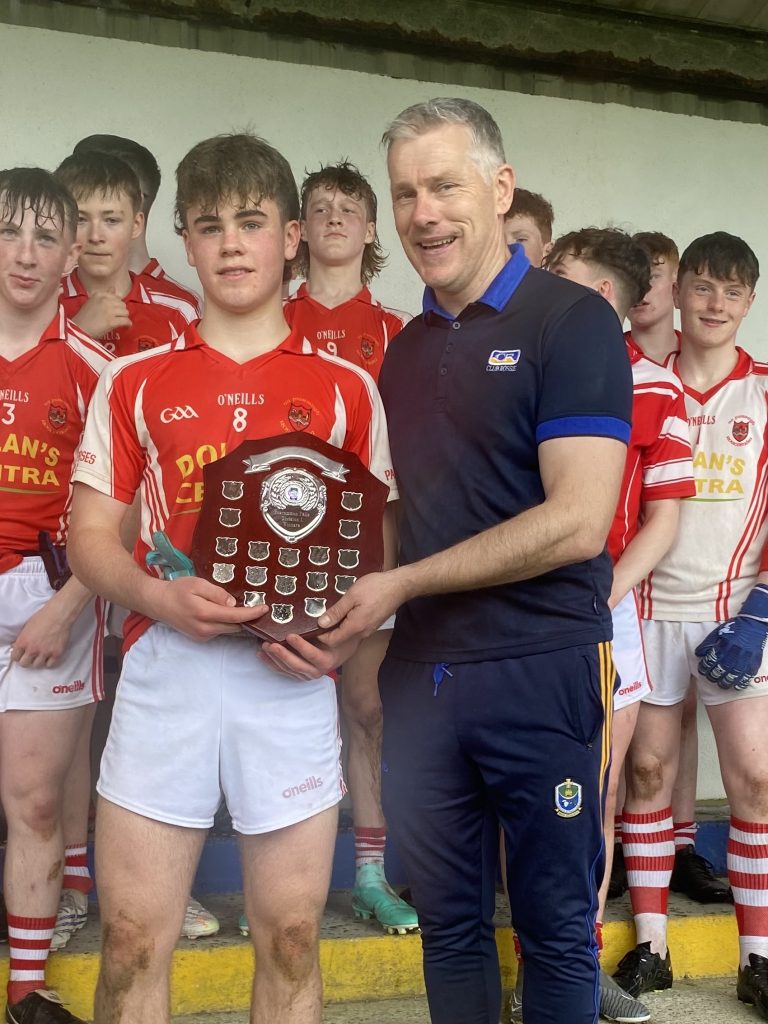 Thanks to our two referees, Mark Grogan and Mark Connell who officiated today in Ballyforan and also a big thank you to St. Aidan's Gaa club for hosting the competition.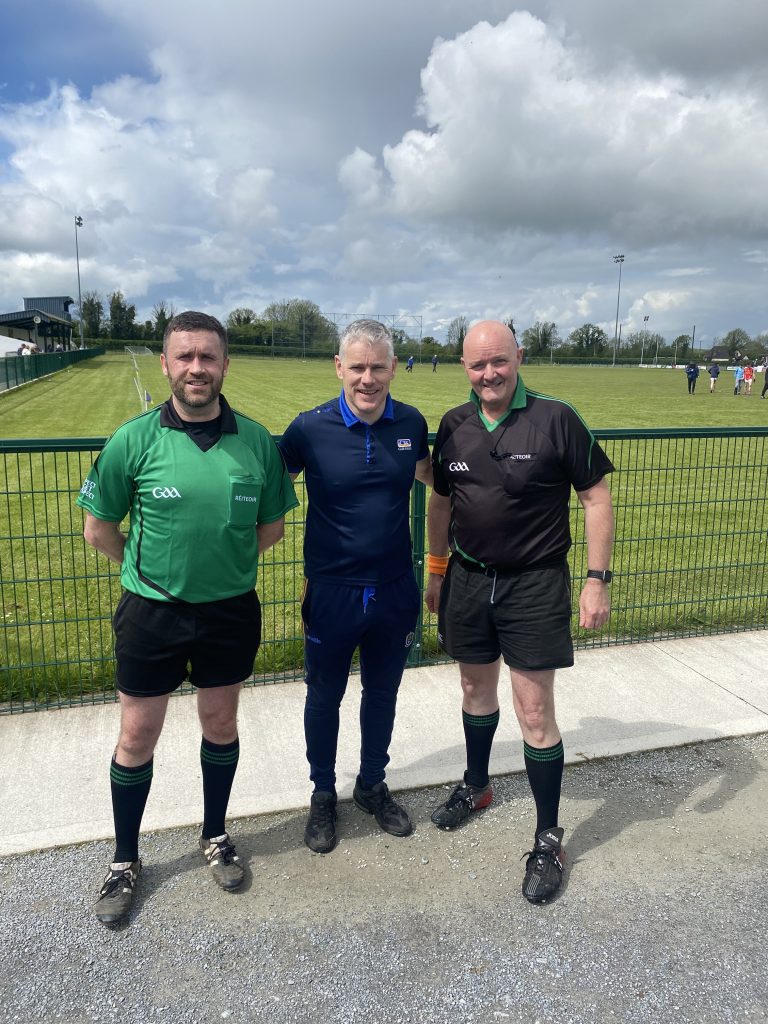 Davy Burke has named his team to face Mayo in Sunday's Connacht Senior Football Championship Quarter-final.
Team;
Conor Carroll
Conor Hussey
Conor Daly
David Murray
Niall Daly
Brian Stack (C)
Eoin McCormack
Dylan Ruane
Keith Doyle
Ciaráin Murtagh
Ciarán Lennon
Enda Smith
Conor Cox
Diarmuid Murtagh
Ben O'Carroll
Colm Lavin
Colin Walsh
Robbie Dolan
Richard Hughes
Ruaidhrí Fallon
Cian Connolly
Donie Smith
Cian McKeon
Niall Kilroy
Paul Carey
Eddie Nolan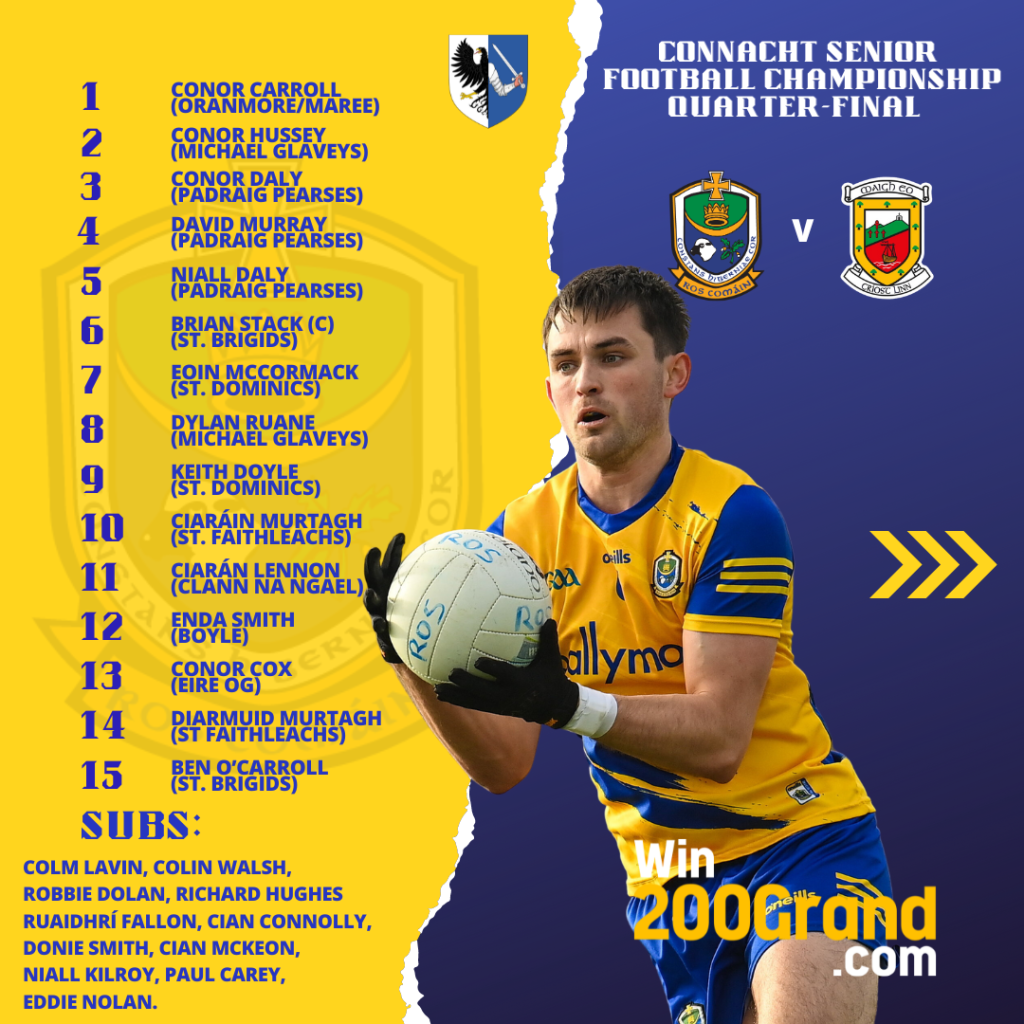 Applications are now welcome for the role of Head of Games Development in County Roscommon to work closely with the County Officers, including the County Chairperson, Secretary/CEO and Games Development Committee to implement the games development programmes in the county. 
More information – https://www.jobs.ie/ApplyForJob.aspx?Id=2136596
Saturday 1 April 2023
---
Content credit; www.GAA.ie
Allianz Hurling League Division 3A Final
ROSCOMMON 2-17
ARMAGH 0-15
Kevin Egan reports from Páirc Tailteann
A topsy-turvy league campaign that saw Roscommon fail to pick up a win in their first three starts against Mayo, Louth and Fermanagh had a happy ending for the Connacht county this afternoon in Navan, as they overcame Armagh to secure the Allianz Hurling League Division 3A title and make up for last year's relegation.
The Rossies racked up a landslide win at Dr. Hyde Park in the round robin stages of this division and it looked like they might win with plenty to spare here again when they burst out the blocks with three points in the first six minutes, playing some very clever and clinical hurling through the lines. Mickey Joe Egan got an outstanding afternoon for himself and his team up and running with two early points, and though Armagh got off their mark with their first score from Fiontán Donnelly free, a goal from Conor Mulry in the tenth minute pushed the lead out to five points.
Roscommon had the aid of the breeze in the opening half and looked sharp up front throughout, but they were more vulnerable at the back than they would have liked, and needed goalkeeper Enda Lawless to come up with some outstanding saves to keep them in the game, with Armagh's Tomás Galvin hugely unlucky not to find the net on a couple of occasions.
Just as it had done in the Hyde three weeks ago, inaccuracy from dead balls also plagued the Orchard men, and while five of their six first-half points came from the stick of the Lámh Dhearg man, they could easily have been a lot closer than 1-9 to 0-6 at the break.
That still left them well in contention with a strong breeze set to blow at their backs in the second half, but they continued to struggle up front, while Roscommon always seemed to have an answer every time Armagh registered a score.
Eoin Fitzgerald had a very good game before he was carried off with a late injury, while teenager Paddy Fallon continued his own exceptional form, shooting four of his seven points from play, as well as playing a key part in the team's second goal, rifled to the roof of the net by Mickey Joe Egan after Fallon seized an errant puckout 50 metres from the Armagh goal and quickly whipped the ball into his colleague.
Tiarnán Nevin and Cormac Jennings tacked on late points for Armagh as they chased the game through ten minutes of injury time, but they needed goals and Enda Lawless, Mark Ward and Conor Cosgrove all came up with excellent blocks and hooks at various stages to ensure that never came to pass.
The sides will meet again in the Nickey Rackard Cup at Dr. Hyde Park in a fortnight's time.
Scorers for Roscommon: Mickey Joe Egan 1-5 (0-1f), Paddy Fallon 0-7 (0-3f), Conor Mulry 1-0, Adam Donnelly 0-2, Eoin Fitzgerald 0-2, Naos Connaughton 0-1.
Scorers for Armagh: Fiontán Donnelly 0-9 (0-8f), Tiarnan O'Hare 0-2f, Cormac Jennings 0-1, Tomás Galvin 0-1, Tiarnán Nevin 0-1, Barry Shortt 0-1f.
Roscommon: Enda Lawless; Darragh Mullen, Mark Ward, Thomas Fleming; Darragh Finn, Conor Cosgrove, Eamon Flanagan; Eoin Fitzgerald, Eamon Mulry; Mickey Joe Egan, Adam Donnelly, Brendan Mulry; Paddy Fallon, Naos Connaughton, Conor Mulry.
Subs: Pádraic Brennan for Fleming (42), Joe Brennan for Mulry (53), Seán Dowd for Connaughton (55), Jack Dowling for Fitzgerald (66), Jack Naughton for Fallon (70+8).
Armagh: Fintan Woods; Barry Shortt, Stefan McPartland, Odhrán McCann; Paudie Lappin, Tiarnán Nevin, Niall Lennon; Odhrán Curry, Peadar McBride; Cormac Jennings, Danny Magee, Fiontán Donnelly; Connor Reneghan, Tomás Galvin, Shea Harvey.
Subs: Oisín O'Hare for McCann (55), Eoin McGuinness for Magee (55), Paddy Garvey for Donnelly (69), Tiarnan O'Hare for Harvey (70), Tam McKavanagh for Jennings (70+5).
Referee: James Connors (Donegal)
Brian Stack from St. Brigids has been named as the new captain of the Roscommon senior football team for 2023.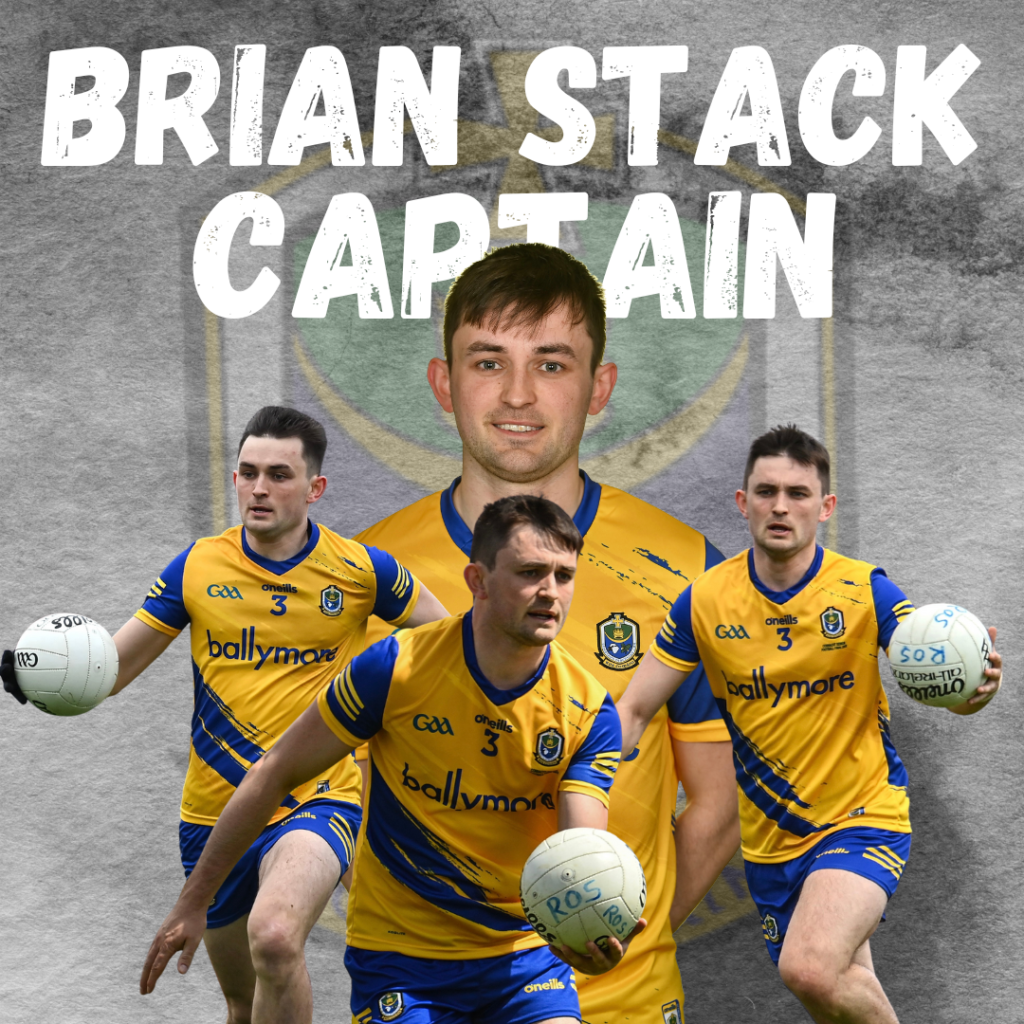 Brian will be ably assisted by Tadhg O'Rourke from Tulsk who has been named as the vice-captain.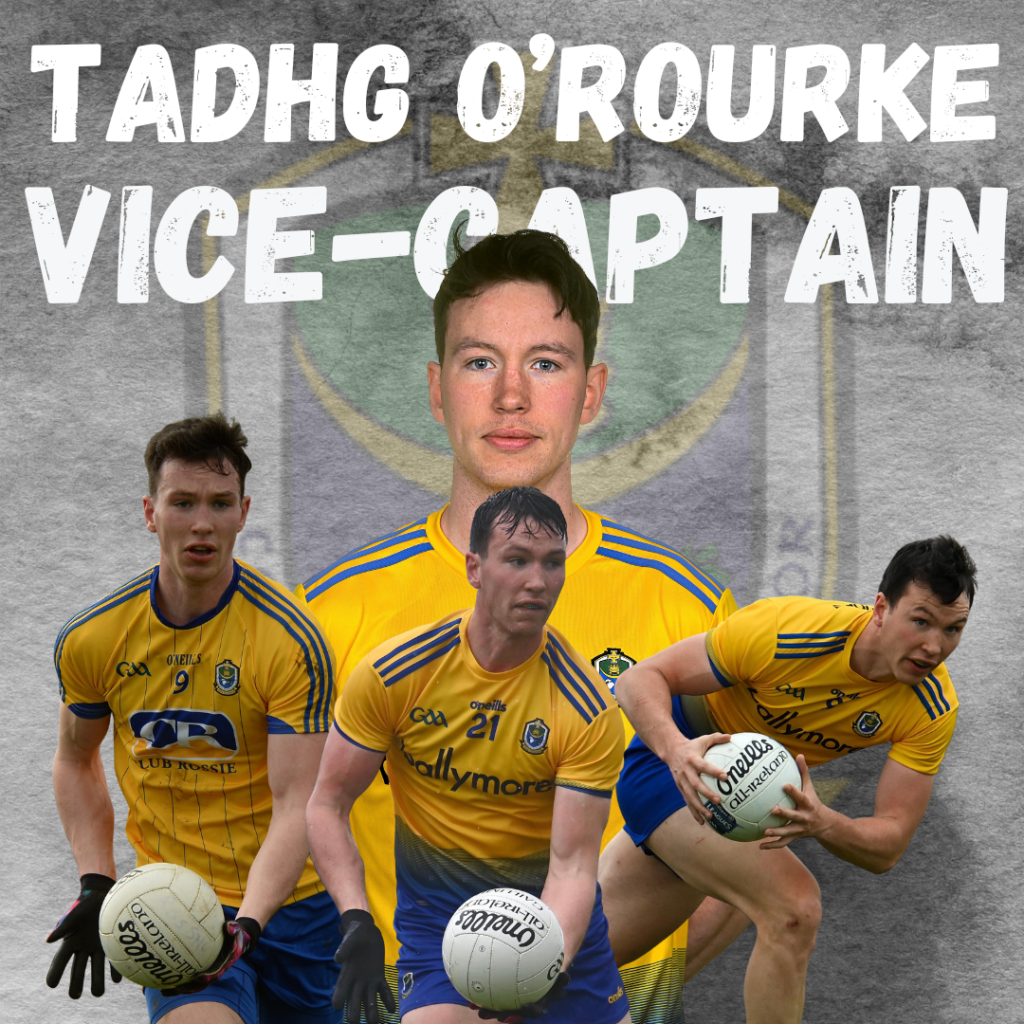 We would like to wish Brian, Tadhg and the entire panel the very best of luck ahead of the Allianz Football League that commences on Sunday when we take on Tyrone at Dr. Hyde Park.
Coiste Náisiúnta Scór are currently running support webinars for all counties. Roscommon G.A.A. clubs are invited to have at least one representative on this Thursday night at 7.30pm. The webinar will last for approx. 45 minutes.
Register ➡️ bit.ly/3QYTZTd
Roscommon Senior Football Manager, Davy Burke has named his team to face Mayo in tomorrow's FBD Connacht League Final.

Roscommon team;
Conor Carroll (Oranmore/Maree)
Dylan Gaughan (Tulsk)
Conor Hussey (Michael Glaveys)
Tomás Crean (Creggs)
Eoin McCormack (St. Dominics)
Brian Stack (St. Brigids)
Conor Daly (Padraig Pearses)
Niall Daly (Padraig Pearses)
Keith Doyle (St. Dominics)
Cian Glennon (St. Faithleachs)
Ciaráin Murtagh (St. Faithleachs)
Dylan Ruane (Michael Glaveys)
Diarmuid Murtagh (St. Faithleachs) (C)
Conor Cox (Éire Óg)
Paul Carey (Padraig Pearses)
Aaron Brady (Elphin)
Paul McGrath (St. Brigids)
Colin Walsh (Oran)
Darragh Heneghan (Michael Glaveys)
Robbie Dolan (St. Brigids)
Ruaidhrí Fallon (St. Brigids)
Ciaran Lennon (Clann na nGael)
Peter Gillooly (Roscommon Gaels)
Donie Smith (Boyle)
Ben O'Carroll (St. Brigids)
Adam McDermott (Castlerea St. Kevins)