James Duignan has been named as the new Roscommon Minor Football Manager for 2022. Duignan takes over from Enda Nugent who led Roscommon to the 2021 Connacht Minor Football Final. James was a coach and selector with that team. Shane McDermott will remain on as Strength & Conditioning coach.
James will be assisted by Fintan Cregg, Stephen Bohan, Pat Regan and Gary Sammon. Roscommon GAA wish James and his backroom team all the best in the season ahead.
Roscommon GAA would like to take this opportunity to thank Enda Nugent and his backroom team for all their hard work with this years U17 team and wish them the very best in the future.
GAA announce National Inclusive Fitness Day
2021 NIFD theme is "GAA Healthy Families". #GAAClann.
On the week of the 23rd of September, the GAA invites all clubs to open their doors to the wider community and support its GAA National Inclusive Fitness Day. 2021 NIFD theme is "GAA Healthy Families". #GAAClann. The event falls during the European Week of Sport (23rd – 30th September) and aims to promote sport, physical and healthy lifestyle activity to everyone regardless of age, sexual orientation, disability, ethnicity, nationality, ability, or fitness level.
Inclusion means people having a sense of belonging, of being comfortable in being part of something they value. Diversity means being aware of, accommodating, and celebrating difference.
GAA Diversity and Inclusion officer Ger McTavish explains:
"Inclusion is about making a difference. Inclusivity is a movement, a move to include. Being truly inclusive is living our GAA motto, 'Where we all Belong'.
"This work takes many forms. It ranges from ensuring that our policies and practices support the cultural integration and social inclusion of people from across Ireland's diverse ethnic population, to making sure that all Gaelic games are adapted for people with different abilities."
A simple 6 Steps process, including access to all necessary resources, has been developed for clubs interested in participating in the GAA's National Inclusive Fitness Day, a process that will also support their journey in becoming a more inclusive club.
1. Your club must register online by September 21th (Go to: www.gaa.ie/nationalinclusionday to register)
2. Sign up to CARA Sport Inclusion Disability Charter
3. Share the GAA inclusive club resources in your club
4. Hold an inclusive fitness activity at your GAA Club on the week of September 23rd
5. Share a video or pictures of your activity on social using #GAABelong, #BeActive, #GAAClann
6: Receive an Inclusive GAA Club certificate to proudly display in your club.
Photograph 1:
Official launch of the GAA National Inclusion Fitness Day in the Connacht GAA Dome and Centre of Excellence on Tuesday 7th August 2021.
(L to R) Denis O' Boyle, GAA Games for All Committee and Connacht GAA, Sarah Cregg, GAA Ambassador and Connacht Wheelchair Camogie player, Ger McTavish, GAA Diversity and Inclusion Officer, Mattie Kilroy, Connacht GAA Healthy and Wellbeing Committee, John Prenty, Connacht GAA Secretary, and Ray McNamara, Sports Inclusion Development Officer, Mayo Sports Partnership, at the official launch of the GAA National Inclusion Fitness Day in the Connacht GAA Dome and Centre of Excellence on Tuesday 7th August 2021.
Photograph 2:
Sarah Cregg, GAA Ambassador and Connacht Wheelchair Camogie player at the Official launch of the GAA National Inclusion Fitness Day in the Connacht GAA Dome and Centre of Excellence on Tuesday 7th August 2021.
Photograph 3:
Sarah Cregg, GAA Ambassador and Connacht Wheelchair Camogie player at the Official launch of the GAA National Inclusion Fitness Day in the Connacht GAA Dome and Centre of Excellence on Tuesday 7th August 2021.
For more information please contact visit https://www.gaa.ie/nationalinclusionday or contact geraldine.mctavish@gaa.ie
Spectators must not attend games if they display any symptoms of Covid-19 and instead should phone their GP and follow public health advice.
Individuals are responsible for managing Covid-19 risk themselves, particularly in relation to social distancing, the wearing of face coverings and sanitation.
All spectators are encouraged to bring their own hand sanitiser.
The Use of face coverings is required for all patrons over the age of 13 (including those who have been vaccinated).
Spectators must not enter the field of play at any time, whether pre-match, at half-time and other intervals or after the final whistle or at end-of-match presentations.
Spectators should be advised to keep their own records of contacts at a match for potential tracing purposes.
Request to Patrons attending Roscommon Club Championship games at venues throughout the County this weekend..
Please co operate with gate staff.
Paper tickets to be presented showing QR code.
Patrons that have their ticket or tickets on their phones please ensure screen brightness is set to max and the QR code logo is enlarged for ease of scanning.
All this will allow the smooth management of access to grounds and assist our volunteers on the gates.
Thank You for your co operation in this matter.
EirGrid U20 Final: Offaly triumph at Croke Park
EirGrid All Ireland U20 Football Championship Final
OFFALY 1-14 ROSCOMMON 1-11
By Paul Keane at Croke Park (GAA.ie)
A remarkable Offaly team capped a thrilling EirGrid All-Ireland U-20 football campaign with a huge Croke Park display to secure their first title at the grade in 33 years.
Jack Bryant's 50th minute goal was the decisive score and put the Faithful County seven points clear though Roscommon battled gamely and reduced the gap to two late on.
That was as good as it got for the Connacht champions with Offaly holding on for a deserved win, their first since winning at the U-21 grade in 1988, and their vocal support hailed the performances of Man of the Match Cathal Donoghue, rising star Cormac Egan and Bryant, who finished with 1-2 overall.
Offaly played with real zip and purpose and struck some beautiful scores as they capped a strong year for the county with a landmark win.
Egan, who kicked two scores and ran hard at the Roscommon defence, played in both of the delayed 2020 Leinster minor finals this year while the county also secured promotion to Division 2 of the Allianz League and won the Christy Ring Cup.
Roscommon, who'd scored 12 goals in their four games to reach the final, netted late on through Adam McDermott but will kick themselves for failing to convert a number of great chances in the first-half.
Jack Lohan was among a group of Roscommon substitutes who came on and turned the game against Down last weekend, helping them come from behind in the semi-finals to win by six.
Lohan was retained in the first team this time and despite wearing number seven played at midfield.
But it was Offaly that started brighter, in scoring terms at least, surging 0-3 to 0-0 clear and holding the lead virtually for the whole game.
Morgan Tynan, Egan and Bryant kicked those early Offaly points and while Roscommon fought back to level terms at 0-3 apiece, it was only briefly.
Tynan put Offaly ahead at the water break with a converted 45 and three points in a row from Donoghue and Aaron Keelaghan left them sitting pretty at half-time, 0-7 to 0-5 ahead.
Roscommon were far from out of it though and while they trailed for the most part, they conjured four clear-cut goal chances in the first-half alone.
James Fitzpatrick, with five goals in the competition, drew a strong save from Offaly 'keeper Sean O'Toole, Darragh Heneghan was twice denied and Offaly corner-back Lee Pearson cleared off the line from Daire Cregg.
All of those chances amounted to a clear warning that Roscommon, with 12 goals in their four previous games, were far from out of it.
At the other end, Offaly full-forward Byrant, the conqueror of Cork with 2-4, went head to head with Roscommon full-back and captain Colin Walsh in a terrific duel. Egan, just out of the Offaly minor ranks, was picked up by Conor Lohan and had a fascinating tussle too.
Ruaidhri Fallon was Roscommon's spare man at the back due to Roscommon's decision to drop Oisin Keenan Martin, wearing number 11, into a similar role at the other end.
Two more Cregg points early in the second-half reduced Roscommon's arrears to just a single point but from there Offaly took off and it was mesmerising to watch.
Five points in a row put them in a strong position and each score seemed to be an epic, like Egan's 42nd minute point after great work by both he and Bryant to escape their markers.
Keelaghan then capitalised on a Fallon error to begin a move that ended with Donoghue sniping another score.
Keelaghan scored himself shortly after following a brilliant solo run and shot from Egan that was parried into the midfielder's path, leaving Offaly 0-13 to 0-7 up at the water break.
It looked all over when sub Keith O'Neill fed Bryant for Offaly's 50th minute goal, the full-forward bottled up by the goalkeeper before turning back onto his right foot and slamming home, to put Offaly 1-13 to 0-9 up.
Roscommon, to their credit, got that seven-point deficit down to five at one stage late on thanks mainly to McDermott's 56th minute goal but that was as close as they came.
Scorers for Offaly: Jack Bryant 1-2, Morgan Tynan 0-4 (0-2f, 0-1 45), Aaron Keelaghan 0-4 (0-1m), Cormac Egan 0-2, Cathal Donoghue 0-2.
Scorers for Roscommon: Adam McDermott 1-2, Daire Cregg 0-5 (0-3f), Ben O'Carroll 0-2 (0-1f), Charlie Carthy 0-1, Jason Doory 0-1
OFFALY: Sean O'Toole; Lee Pearson, Tom Hyland, Aaron Brazil; Fionn Dempsey, John Furlong, Rory Egan; Ed Cullen, Morgan Tynan; Cathal Flynn, Cathal Donoghue, Oisin Keenan Martin; Cormac Egan, Jack Bryant, Aaron Keelaghan.
Subs: Keith O'Neill for Keelaghan (48), Kieran Dolan for Brazil (58),
ROSCOMMON: Conor Carroll; Dylan Gaughan, Colin Walsh, Conor Lohan; Tomas Crean, Ruaidhri Fallon, Patrick Gavin; Jack Lohan, Keith Doyle; Robbie Dolan, Daire Cregg, James Fitzpatrick; Darragh Heneghan, Adam McDermott, Ben O'Carroll.
Subs: Charlie Carthy for Fitzpatrick (40-full-time, blood), Sean Trundle for Crean (40), David Wynne for J Lohan (46), Jason Doory for Dolan (48), Joseph O'Malley for Gaughan (51), Enda Crawley for Heneghan (54).
Referee: Sean Hurson (Tyrone).
Eirgrid All-Ireland U-20 football semi-final
ROSCOMMON 2-13 DOWN 1-10
Kevin Egan at Kingspan Breffni Park.
Source – GAA.ie
The 2021 Eirgrid U-20 football championship final will be a Shannonside derby that no-one would have predicted, as Roscommon secured their place in next Sunday's decider alongside Offaly thanks to a six-point win over Down at Kingspan Breffni Park tonight.
A remarkable finish to the game that saw Roscommon score the last 1-5 without reply completely turned the tables on a contest where Down were marginally the better side over the first three quarters of the game. Roscommon posed a constant goal threat, even if they didn't convert their chances at the rate that Liam Tully would have wished, but they were working with a limited supply of ball throughout, given Down's control of the midfield battle.
Their second goal, scored deep into stoppage time, saw Adam McDermott carry the ball 40 metres and roll it into an empty net, as Down goalkeeper Charlie Smyth had joined his colleagues in trying to salvage a goal of their own to take the game to extra time. By then their challenge was hampered by a straight red card to captain Shealan Johnston, and he was joined on the sideline by midfielder Tom Close in the final minute of the eight extra allocated by referee David Murnane.
The fearless, attacking football that has been the hallmark of the Eirgrid U-20 football championship across all four provinces so far this summer was in evidence yet again right from the throw in here, as the two sides went at each other with every possession, chasing scores and turnovers with equal levels of zest on the fast, wet surface.
Down settled that little bit quicker and almost got the dream start through an Andrew Gilmore goal chance, only to be denied by a superb save from Conor Carroll. Points from Dany Magill and John McGovern followed to edge the Ulster champions into the lead, but Roscommon's forwards looked sharp when they had possession too, and they proved it with ten minutes on the clock when a lovely dummy and run from James Fitzpatrick ended with the Oran player picking out the top corner of the net from 15 metres out, his fifth goal of this championship so far.
Roscommon held that lead up until just before half time when Johnston rattled one in for Down, but the Mourne county were always well in the game thanks to their domination of the midfield battle, where Close and Ordhán Murdock were imperious.
Ben O'Carroll opened the second half with a sublime score, but Down picked up where they left off with the next two points, and it could have been more had Danny Magill's shot dipped an inch lower.
The introduction of a raft of Roscommon substitutes proved to be a crucial game-changer however. The introduction of Seán Trundle freed up Ruaidhrí Fallon to move to midfield where he made a big impact, David Wynne added energy and speed to Roscommon's link up play, while Charlie Carthy chipped in with a crucial score late in the game.
Once the final quarter got underway, Roscommon were about to take over. A superb point from Patrick Gavin, drew them level, then Adam McDermott, Fitzpatrick and Carthy all hit the target, before the crazy finish led to McDermott confirming Roscommon's win with the simplest goal he could ever hope to score.
Scorers for Roscommon: Daire Cregg 0-5 (0-1f), James Fitzpatrick & Adam McDermott 1-1 each, Ben O'Carroll (0-1f) & Patrick Gavin 0-2 each, Robbie Dolan & Charlie Carthy 0-1 each.
Scorers for Down: Shealan Johnston 1-0, Charlie Smyth (0-2f), Andrew Gilmore (0-1f), Rúairí O'Hare (0-1f), Danny Magill 0-2 each, John McGovern & Tom Smyth 0-1 each.
Roscommon: Conor Carroll; Conor Lohan, Colin Walsh, Dylan Gaughan; Patrick Gavin, Ruaidhrí Fallon, Tomás Crean; Enda Crawley, Keith Doyle; Robbie Dolan, Daire Cregg, Darragh Heneghan; Ben O'Carroll, Adam McDermott, James Fitzpatrick.
Subs: Charlie Carthy for Heneghan (19-21, temporary), Sean Trundle for Crawley (41), Charlie Carthy for Heneghan (41), Jack Lohan for Crean (44), David Wynne for Dolan (45), Jason Doory for Gaughan (53).
Down: Charlie Smyth; Tiernan Fettes, Lorcan Toal, Ryan Magill; Tom Smyth, Patrick McCarthy, Anthony Morgan; Ordhán Murdock, Tom Close; Ruairí O'Hare, Shealan Johnston, John McGovern; Andrew Gilmore, Eamon Brown, Danny Magill.
Subs: Peter McMullan for Fettes (20), Seán Óg McCusker for D Magill (44), Shea Croskery for Brown (48), Justin Clarke for McGovern (54), Jack Murtagh for O'Hare (59).
Referee: David Murnane (Cork).
Eirgrid Connacht U20 Football Championship Final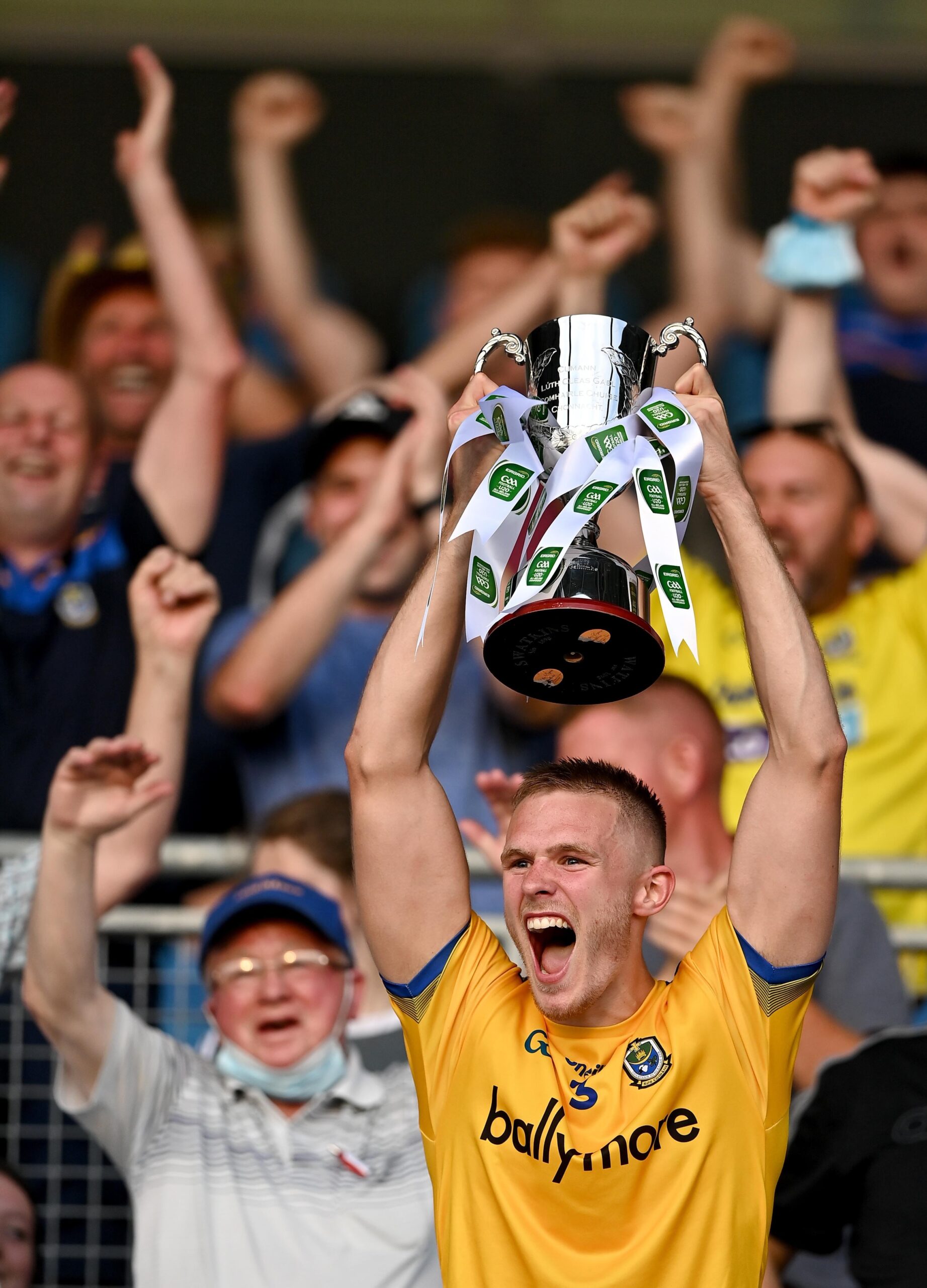 ROSCOMMON 2-11 MAYO 1-7
By Colm Gannon in MacHale Park (GAA.ie)
The setting sun burnt down in Castlebar as Mayo and Roscommon did battle for the Eirgrid Connacht u20 championship and the sun shone on Roscommon at the final whistle.
A stunning third quarter from Roscommon set them up for victory – they outscored Mayo 1-3 to 0-1 – and their goalkeeper Conor Carroll pulled off a fantastic penalty save from Jack Mahon just before the final water break.
Leading by just a single point at half time Roscommon attacked the third quarter with drive and determination and plenty of class, as they shut down Mayo's attack and punished them at almost every opportunity at the other end.
Adam McDermott got things going on the scoreboard early in the second half with a good point that was quickly replied to by a Connell Dempsey effort, but from then on it was all Roscommon.
Daire Cregg kicked two on the bounce and on 41 minutes the killer moment came when Adam McDermott rattled the back of the Mayo net after he turned over Conor Dunleavy as he tried to break out of defence. James Fitzpatrick followed that up with a fine point to put Roscommon 1-9 to 0-5 clear as the water break approached.
Mayo looked like they were thrown a lifeline when they were awarded a penalty, but Jack Mahon saw his effort brilliantly saved by Conor Carroll.
Despite being down to 14 men for the first ten minutes of the final period Roscommon were composed and controlling in possession and when James Fitzpatrick drove home their second goal the game was well and truly done and they saw their way home to the Connacht title.
The game had started off well for the home side who led by three points at the first water break thanks to points from midfielder Jack Carney along with a mark from captain Jack Mahon and well taken free by Connell Dempsey.
They also could have had two goals to their name, with Mayo getting in on the end of long punted mark by corner back Donnacha McHiugh and flicking it to the net, only to see it ruled out for a square ball six minutes in.
A minute later Ethan Henry had a chance to rattle the net cutting in from the right but he pulled his effort badly wide of the target.
Roscommon had plenty of the ball too and registered four wides in the opening 15 minutes and were inches from a goal themselves after Darragh Heneghan burst down the right flank and popped a hand pass tantalisingly across the face of goal, only for a Mayo defender to get their hands to the ball ahead of a Roscommon attacker.
The visitors had the gap back to the bare minimum with 24 minutes gone on the clock – James Fitzpatrick swung over their first just after the resumption of action and nine minutes later, after some strong defensive work holding Mayo at bay, Heneghan fired over to leave it at 0-3 to 0-2.
Four minutes from the half time break, Ben O'Carroll was rewarded for some ferocious workrate, winning the ball in the corner, wrestling it away from his man and playing a one-two before slotting it over the bar.
Not long after that Roscommon went into the lead when Fitzpatrick pulled on the ball on the deck close in after a Patrick Gavin shot had been blocked down and the Roscommon crowd had found their full voice in the stand. Daire Cregg drove over a point from downtown just as the half slipped into injury time and Roscommon were leading 0-5 to 0-3.
But there was still time for Mayo to mount one more attack and, after a long period of possession, Jack Carney took on the responsibility and drove the ball over the bar to leave just one between the sides.
Scorers for Mayo: Connell Dempsey (1-2, 1-0pen, 0-1f), Jack Carney (0-2), Jack Mahon (0-1, 1m), Sean Holmes (0-1), Owen McHale (0-1)
Scorers for Roscommon: James Fitzpatrick (1-3), Daire Boyle (0-5, 3f), Adam McDermott (1-1), Darragh Heneghan (0-1), Ben O'Carroll (0-1).
MAYO: Ronan Connolly; Sean Holmes, Ruairi Keane, Donnacha McHugh; Conor Flynn, Ryan Baynes, Aidan Cosgrove; Conor Dunleavy, Jack Carney; Ethan Henry, Conor Reid, Connell Dempsey; Ultan O'Reilly, Frank Irwin, Jack Mahon. Subs: Paddy Heneghan for O'Reilly (30), Dylan Thornton (33) for Reid, Ewan Duffy for McHugh (40), Owen McHale for Cosgrove (51), Rory Morrin for Mahon (53)
ROSCOMMON: Conor Carroll; Conor Lohan, Colin Walsh, Dylan Gaughan; Patrick Gavin, Tomas Crean, Cian Glennon; Keith Doyle, Ronan Garvin; Robbie Dolan, James Fitzpatrick, Daire Cregg; Ben O'Carroll, Adam McDermott, Darragh Heneghan. Subs: Ruaidhrí Fallon for Garvin (30), Jason Doory for Heneghan (38), Jack Lohan for Glennon (47), David Wynne for Crean (47), Sean Trundle for McDermott (58)
Referee: Thomas Murphy (Galway)
Liam Tully has named his team to face Sligo in this evening's Connacht U20 Football Championship Semi-final in Dr. Hyde Park. Throw in is at 7pm.
The match will be streamed live on www.connachatgaa.ie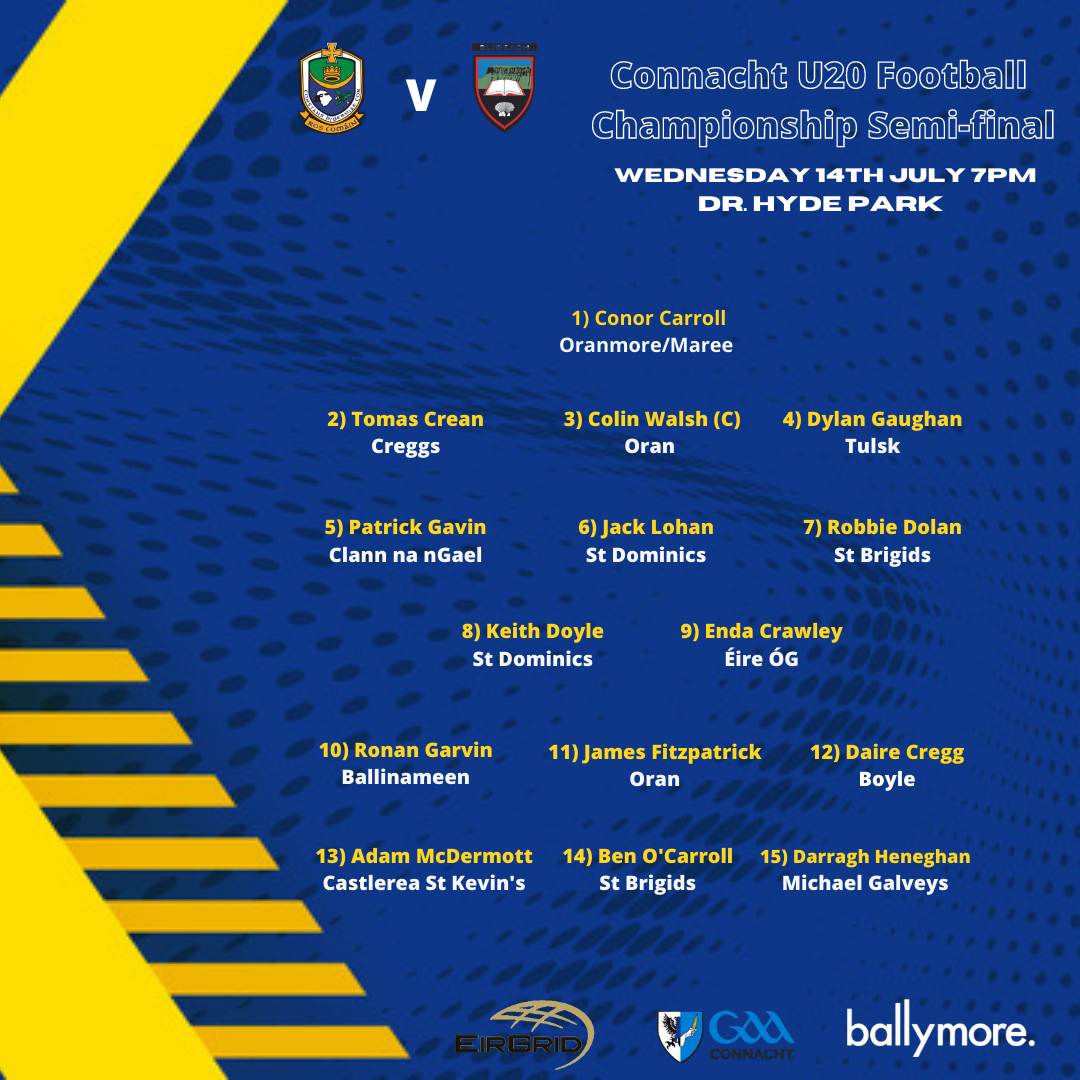 The draw have been made for this years football Championship.
Hodson Bay Hotel Senior Championship.
Group A – Padraig Pearses, Western Gaels, Strokestown, Clann nanGael.
Group B – Boyle, Michael Glaveys, Elphin, Roscommon Gaels.
Group C – St Brigids, Tulsk, St Croans, Oran.
Mulryan Construction Intermediate Championship.
Group A – Fuerty, Castlerea St Kevins, Creggs, Shannon Gaels.
Group B – St Aidans, Clann na nGael B, Ballinameen, Kilbride.
Group C – St Dominics, St Faithleachs, Kilmore, Éire Óg.
King & Moffatt Junior A Championship.
Group A – St Brigids B, Boyle B, St Ronans, St Michaels.
Group B – St Barrys, Roscommon Gaels B, Western Gaels B, Kilglass Gaels.
Group C – Padraig Pearses B, Elphin B, St Josephs, St Dominics B.
The championship will commence in August 2021.