Feely snatches glory for Kildare
June 19th, 2023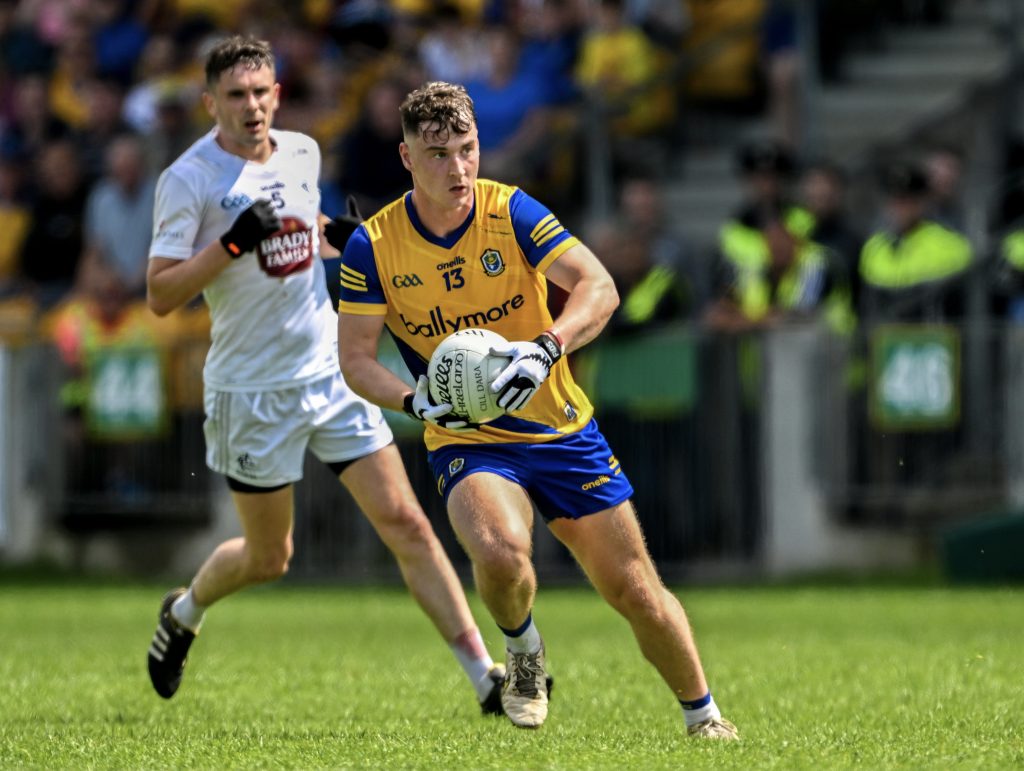 All-Ireland SFC Group Three
Kildare 1-16 Roscommon 1-15
content credit; www.GAA.ie
By Kevin Egan at Glenisk O'Connor Park
Kevin Feely's majestic strike from a mark in the right corner of the pitch crowned a stirring performance from the Kildare footballers this afternoon, as they upset the odds against Roscommon to secure second spot in group three and with it, a "home" preliminary quarter-final next weekend.
It was somewhat appropriate that the winning score came from an attacking mark, as that had been Kildare's most potent attacking weapon throughout afternoon. Quality deliveries were sent in towards Feely, Daniel Flynn and Darragh Kirwan, with the three rangy attackers combining to score five points from marks.
In general play however, Kildare were the stronger side for the larger share of the game, notwithstanding a 15-minute spell in the first half when black cards for Alex Beirne and Ryan Houlihan put them on the back foot.
Outside of that, Glen Ryan's side were much more impressive, both in their own attacking play, and how they shut down the majority of Roscommon's main attacking weapons.
First and foremost was the manner in which they negated Conor Carroll's kickouts with clever positional play, a strong attacking press and real ferocity in battling for loose ball. That gave them a solid platform of possession, and while it would be easy to look at the final tally of wides – 11 for Roscommon and five for Kildare – and declare that Roscommon kicked the game away, much of that was down to Kildare forcing Roscommon into low percentage shots.
Five of those Roscommon wides were in the first quarter, when Kildare dominated. After conceding the first score of the game to Cian McKeon, the Lily Whites took over and were full value for their five point lead at 1-4 to 0-2. Their goal was a thing of real beauty too, opened up by Darragh Kirwan's shoulder drop and dummy, which led to a clever flick from Kevin Flynn into the path of Alex Beirne.
The Naas man still had plenty to do, but a first-time volley caught every one of the 7,000 supporters by surprise, not to mention fizzing past Conor Carroll into the corner of the net.
Two Kildare black cards offered Roscommon a way back into the game, and when the lifeboat was put in front of them, Davy Burke's men didn't need to be asked twice, quickly making their way to solid ground again.
Diarmuid Murtagh pounced on a defensive error to set up Enda Smith for their goal, Dylan Ruane and McKeon kicked excellent points from play to make it 1-6 to 1-4 at half-time, and for the majority of the third quarter, that was how it stayed, with the Connacht county keeping their noses in front.
Kildare played the more expansive football generally, and they also looked like a side that had more energy going into the final quarter. A good catch from Neil Flynn intercepted a Roscommon kickout and that was the possession that ended with Ben McCormack levelling the game, and now the Lily Whites smelled blood in the water, kicking on to move two points clear.
The defensive resilience of players like Brian Stack, Niall Daly and Eoin McCormack kept the Rossies in the game, while Enda Smith was a colossus at the other end of the field, kicking wonderful points, none better than his equaliser early in stoppage time to cancel out McCormack's third point of the game.
A draw would have been enough for Roscommon to preserve second place in the group and that high-pressure point might well have been enough, had the Rossies found a way to get their hands on the ball again.
Instead Kildare seized the last possession of the game, and with a packed defence lined out in front of them, it was clear that they wanted to use the aerial approach once again as their way of breaking down their opponents. The long ball sent in by Daniel Flynn towards Feely was well-directed, and while Ciarán Lennon was right there to try and spoil the ball, the Athy man was too athletic and too powerful in the air, pulling off a soaring fetch that set up his chance to win the game.
Add in a perfectly accurate finish from inside the shadow of the roaring stand, and Kildare's best performance of the year had been topped off with the perfect finale.
SCORERS FOR KILDARE: Alex Beirne 1-2, Neil Flynn 0-4 (0-3f), Kevin Feely 0-4 (0-3m, 0-1f), Ben McCormack 0-3, Daniel Flynn 0-1m, Darragh Kirwan 0-1m, Kevin O'Callaghan 0-1.
SCORERS FOR ROSCOMMON: Enda Smith 1-3, Ciaráin Murtagh 0-4 (0-3f), Cian McKeon 0-3 (0-1m), Ben O'Carroll 0-1, Diarmuid Murtagh 0-1f, Donie Smith 0-1f, Dylan Ruane 0-1, Niall Daly 0-1.
ROSCOMMON: Conor Carroll; Dylan Ruane, Colin Walsh, Brian Stack; David Murray, Niall Daly, Eoin McCormack; Eddie Nolan, Conor Daly; Ciaráin Murtagh, Cian McKeon, Enda Smith; Donie Smith, Ben O'Carroll, Diarmuid Murtagh.
SUBS: Ciarán Lennon for C Daly (20), Conor Hussey for Walsh (44), Daire Cregg for D Murtagh (59), Niall Kilroy for D Smith (60), Richard Hughes for Nolan (70).
KILDARE: Mark Donnellan; Eoin Doyle, Ryan Houlihan, Shea Ryan; David Hyland, Kevin Flynn, Jack Sargent; Kevin O'Callaghan, Kevin Feely; Paddy McDermott, Alex Beirne, Neil Flynn; Daniel Flynn, Darragh Kirwan, Ben McCormack.
SUBS: Darragh Malone for Houlihan (44), Tony Archbold for Beirne (59), Harry O'Neill for Doyle (65), Paul Cribbin for McDermott (70)
REF: Martin McNally (Monaghan).