Roscommon Confirm Kevin Mc Stay's retirement from Management
September 5th, 2018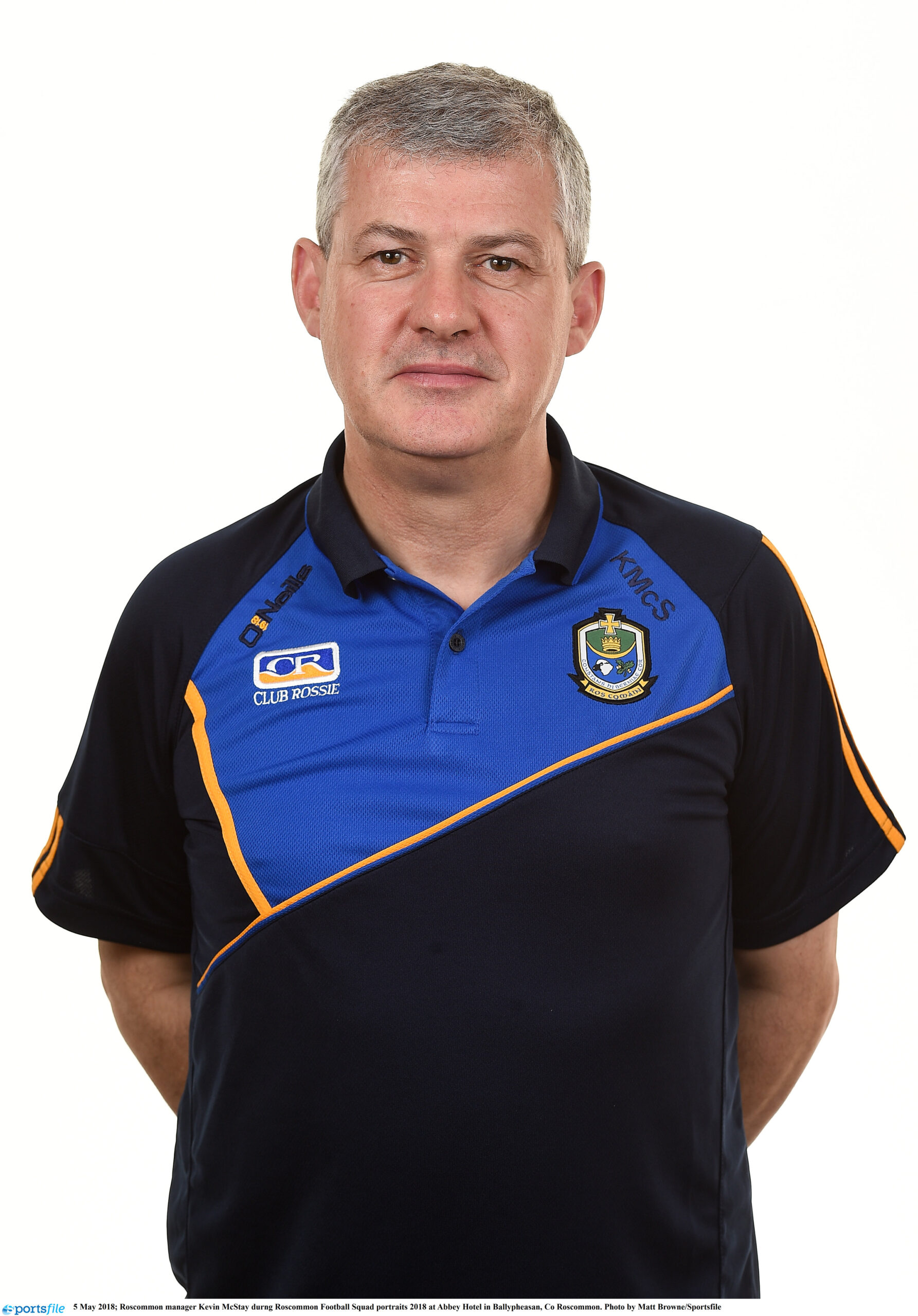 It is with a heavy heart that Roscommon GAA announce that Kevin McStay has retired from Inter County Management.
Co Chairman Seamus Sweeney said "Today I reluctantly accepted Kevin's resignation as Roscommon Senior Team Manager. I'd like to thank Kevin for his dedication and commitment to Roscommon GAA over the last three years as manager of our senior team. Kevin's professionalism and knowledge were there for everyone to see. He has left Roscommon Football in a good place".
"I want to thank his selectors Ger Dowd and Liam McHale, and his backroom team who all did their very best to ensure Roscommon were as competitive as possible. We've had some memorable days from winning the Connacht title to regaining our place in Division One".
"On a personal level I'd like to wish Kevin and his wife Verona and daughters every good wish for the future."
Kevin's Statement is below.
Earlier this afternoon I spoke with the Chairman of Roscommon GAA and informed him of my decision not to continue in my role as manager of Roscommon senior footballers.
Our annual review of the 2018 season was completed recently. Having considered the many factors involved in managing a county football squad, and unable to resolve enough of those factors to my satisfaction, I have decided that a change in management should take place immediately. I feel I have brought the team as far as I can at this stage and a new voice and direction is now required. The handover to the next management group will be orderly and without fuss.
As is the natural way of things, some players will retire, others will opt out due to work and college commitments while yet more will want to travel. As I have remarked previously, life often gets in the way of football and we must recognise this.
I want to salute two players who have retired this year; both Seanie McDermott and Ian Kilbride gave their county outstanding service.
Over the past 12 months this group of Roscommon players has won, or qualified, for all the competitions they can be reasonably expected to:
Connacht Championship Winners (July 2017)
All Ireland Quarter Finalists (July 2017)
Connacht League (March 2018)
Division 2 Champions & Promotion to 2019 NFL Div 1 (April 2018)
All Ireland Quarter Finalists (July 2018)
Winning the 2017 Connacht Final will always remain the happiest day of my sporting life. The joy, satisfaction and fun it provided to us all – players, parents, management, officials and supporters, is something I will cherish forever. The mayhem and madness of those few days will always be a warm memory.
I want to sincerely thank all of the players I've dealt with these last three years. I wish them well; they have given so much in their efforts to represent Roscommon, both on and off the field.
I want to note the massive contribution of Liam McHale (Team Coach), over the past 2 years especially. Without his knowledge, enthusiasm, energy, charisma and great sense of fun we would never have won the championships and leagues we did. A life-long friend, on and off the pitch, I want to sincerely thank him for his dedication and loyalty.
Ger Dowd (Selector and sometimes Manager!) worked tirelessly for this group. A hugely experienced coach, Ger always found time in a very busy life to get things done and I deeply respected his work, opinions, advice and friendship.
I want to particularly thank my loyal comrade and friend Sean Finnegan who ensured everything on the 'Admin & Logs' side went perfectly and yet still somehow found time to provide the fun, the laughs and sort out our downtime. The players and management never ceased to be amazed at the royal treatment he laid on for us wherever we went over the three seasons.
David Joyce, our S&C Coach, was a key component of all our successes. In his first major appointment at this level, alongside his professional competence, he was a valued member of management and an extremely positive influence on the group. Damien Martin (S&C) was his able and loyal lieutenant. Tom Coleman & Jeeny Maltese (Nutrition) arrived this year and made a huge contribution.
Thanks to the Goalkeeping Coaches I worked with – Leo Tierney and his predecessor, Declan O'Keeffe. Both men worked extremely hard for the cause.
The Medical Team under Dr. Martin Daly (Aisling Creighton, Sarah Newton, Ciaran Hunt, Seamus Hunt, Pat Regan and Squad Sports Psychologist Jim Lowther) provided a first class service at all times; the Kit Team (Anthony & Daire McCormack) and our Stats Man (Mick Byrne) always excelled and our Camera Man, Ollie Lennon, always got the tapes to us on time.
A special thanks to our loyal and fun Taxi Man, Shay Wade, who never let us down; and Liam McNeill who looked after catering, often at short notice and with considerable distance involved but he always obliged. Thanks also to Vinny Egan for the Ice Baths. There are many others who made contributions: all at St. Brigid's GAA club, the staff in Dr. Hyde Park, the staff in County Board offices, Adrian Greally & Staff at The Abbey Hotel, and so on. It takes a lot of positive people to run an inter-county team – no doubt I've accidently left some people out.
I want to acknowledge the generous sponsorship of Ballymore (Sean Mulryan) and Ranger Pipelines (Tom Hunt) – without their help we could never have achieved what we did.
I want to put on record the inputs of Fergal O'Donnell, in particular, during year one; without his efforts the squads of 2017 and 2018 would not have enjoyed the benefits of the many excellent people and structures he put in place. The 2016 selectors, David Casey and Stephen Bohan never tired trying to do their best for Roscommon GAA. And a sincere thanks also to the 2016 back room team personnel who worked so diligently.
My family, Verona and our three girls, have never once wavered in their support of me, or the Roscommon team, and of course prepared the ground at home to allow me a clear run at managing this fine squad.
I want to thank the former Roscommon players and managers who encouraged, advised gently and supported strongly whatever I was trying to do for the squad.
Throughout my time in charge I have, thankfully, enjoyed the support and friendship of the officers charged with running the affairs of both Roscommon GAA and Connacht GAA: Seamus Sweeney (Chairman, Roscommon GAA), Brian Carroll (Secretary, Roscommon GAA), David O'Connor (Treasurer, Roscommon GAA), his predecessor Seamus Maher and Hugh Lynn (PRO, Roscommon).
Valerie Murray (Fixtures Secretary, Roscommon GAA) was always friendly and courteous. John Prenty (Sec, Connacht GAA) has always been professional and friendly in his personal dealings with me and I thank him for his support over the years. And a massive thanks to all at Club Rossie for their efforts.
I want to confirm that our Chairman, on the day the season ended, gave me his and his executive's full backing and asked that I stay on to see out the final two years of my term. I deeply appreciated that prompt and positive support.
I want to thank the vast majority of media for their fair and accurate reporting on the efforts of our players and my management team.
So, after much consideration I have decided not to take up the Chairman's invitation. I've done three years, every one of them challenging and sometimes exhausting. In reviewing my time in charge I have to acknowledge the inordinate amount of time I spent dealing with financial and facility issues, personnel issues, media issues and the various contentious and controversial events that kept arising over those seasons.
Success is what we all crave but we must understand our reality too. While Roscommon is a proud football county, it is a small county with a limited playing pool and deficits in resources and facilities. The budget required to finance success at the highest level demands year-round attention. Facilities, Catering, Kit & Equipment, Professional expertise and, especially, Travel costs are major financial drainers and they are placing a massive burden on voluntary officers that is often overwhelming.
These are the significant challenges the smaller GAA counties face. If the GAA is committed to ensuring all counties are, at a minimum, competitive, then they must be supported financially in a way that reflects the demands and the need for fairness, equity and solidarity.
I am privileged to say the Roscommon GAA family entrusted their team to me for three years. We had our share of special days, mostly grand days and of course, some very tough days. But overall, on reflection, these have been three of the greatest years of my life. Leaving the safety of the pundits chair for the passion and glory of the dressing room and football field is a decision I'll never regret. However, today marks my retirement from senior inter county football management.
I look forward to a less stressful period now, concentrating more on work and family life and to supporting Roscommon and Mayo teams in 2019 and beyond.