An Interview with Michael McGuire
December 11th, 2010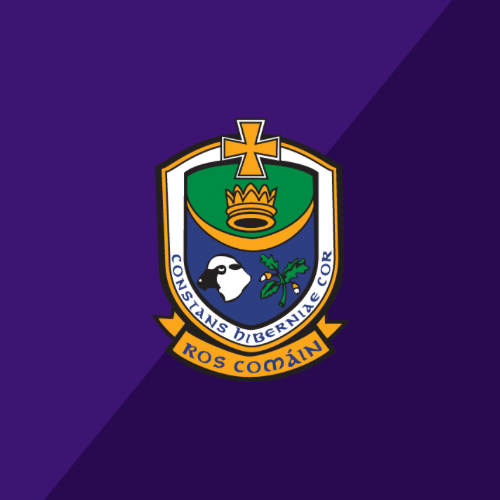 (Interview by Michael Fahey, then County PRO, in October 2010)

Michael McGuire became Chairman of Roscommon GAA County Board during the summer of 2005 following the resignation of Stephen Banahan. Michael faced many serious problems on taking up office. Michael has now completed his term of office and will step down as Chairman at the convention in December 2010. In the following interview, Michael speaks candidly of the challenges and successes that he experienced during his tenure of office.
When you became Chairman in 2005 what was the biggest challenge facing you as Chairman?
The first and most pressing issue was to become familiar with the causes of the crisis that had hit Roscommon GAA and to try with set about resolving it. As most people will be aware our county was facing huge financial problems and these in turn were impacting on virtually every facet of the GAA in the county. I have no great wish to revisit the crisis but suffice to say that it was a massive job involving work with auditors, solicitors and other interested parties culminating in two EGM's before we were in a position to move on..
What lessons were learned by Roscommon County Board and the GAA in general from the financial troubles that Roscommon GAA faced in 2005/06?
There were a number of very important lessons;
To ensure that the auditor's annual report and findings are acted upon and that regular financial reports are produced and presented to the county committee.
To generate enough income annually to service all the boards outgoings.
To ensure that a proper accounts package is in place to allow the board to have regular reports as to the state its finances
To engage at provincial and central level regarding all financial matters.
To implement an agreed fundraising programme for each year.
What are the major improvements you have witnessed during your period as Chairman.
I suppose I would have to say the major improvement in our finances, also the fantastic progress at coaching and at underage level. Further to that there has been a tremendous improvement in the way the whole GAA operation is run in our county. The ability of our clubs and administrators to embrace the massive changes in IT and other innovative changes has resulted in the county's affairs being run in a very professional manner.
However one of the most impressive changes has been the number of clubs that have completed high quality upgrades to their facilities. The quality of our club facilities is currently at a very high standard throughout the county.
What were the most memorable moments of your chairmanship
There were quite a few.
The trip to New York in 2006 and the famous speech made by the late Dermot Earley.
All our provincial successes at county and club level.
The great year we had in hurling in 2007 culminating in the Rackard Cup victory in Croke Park.
The great goodwill and friendship shown to Maureen and myself as we attended all types of social occasions in our clubs.
The provincial success of our U21 footballers this year.
The fantastic achievement of winning the Nestor cup this year against all the odds.
But for sheer raw emotion and pleasure it would be hard to equal our All Ireland Minor success in 2006. The whole campaign and the homecoming will be forever etched in my mind.
In your opinion what do you see are the biggest challenges facing the GAA at local and national level?
In my opinion there are two major challenges facing our clubs and counties. To maintain player numbers during the current recession and to generate enough income to manage clubs and County Boards.
Nationally I think the biggest challenge continues to be the provision of a fixtures schedule and programme that embraces the requirements of all players.
How do you see Roscommon's prospects for success at provincial level and national level in the future?
For several years now Roscommon has become very competitive at all levels of underage footballer. With good management, I see this as a stepping stone to eventual senior success at Provincial and National level. We must however continue to work very hard to ensure that the current high standards our coaching and games development do not slip.
For hurling I would very much like to see more by way of national initiative that would help counties like Roscommon to underpin the very good work that continues to be done locally.
Under your chairmanship, a number of exciting development projects are in the pipeline for improving training facilities for the county teams. How important are these for Roscommon and in the current climate can the Board afford them?
Most counties are endeavouring to update their training facilities and county grounds and Roscommon is no exception. Our proposed training facilities development at Runnabracken would put us on a par with most counties and would taken the enormous burden off our managers, officials and clubs who are constantly burdened with the task of providing facilities at the moment. Dr. Hyde Park is also in need of an upgrade and Kiltoom is also embarking on a project that will further enhance their status as our second county ground.
There are still a number of issues to be finalised for all these developments but I am confident that they will be in a position to progress quite soon.
It is fair say that because of our financial commitments that Roscommon's task will be that little bit more difficult as we endeavour to fund these developments but I would be confident that with National support and the right financial package we will be in a position to progress on all fronts.
You spoke about memorable moments during the past 6 years. Are there any moments when you were worried about the future of Roscommon GAA?.
While there were several difficult moments in the initial years I was never worried. I always felt that once we kept people fully briefed about the various problems, then everything would work out. The Roscommon GAA family is an amazing unit with a huge loyalty to the county and its teams and the support and goodwill that was always there kept me and the board going no matter what the difficulties were.
We had tremendous sponsors, benefactors, supporters and supporters clubs, who were always prepared to dig deep to ensure that we met our commitments.
The club scene in Roscommon is sometimes criticised for the standard of football played. Would you agree with this?
My own view is that our standards are as good as in most other counties. Since the inception of the current format for our championships, we have had some very competitive and exciting fare.
Also our club teams have been competitive in Connacht in recent years and again this year, St Bridgets, Strokestown and Ballinameen are progressing well in their respective provincial championships
In an ideal world is there anything you would wish to see in place or happening in Roscommon GAA?
For our wonderful supporters, I would love to see us winning another National title and maybe bridge the long gap since 1944 at senior level. I would also love to see our major developments completed thus enabling our players and supporters to enjoy the highest standard of facilities.
Now that you will be stepping down shortly how you intend to continue your involvement in the GAA
The GAA has always been a major factor in my life both as a player and administrator so it would be very hard for me to walk away just yet. Within the county I have decided to contest the Central Council delegate position when it becomes vacant. If successful this would afford me the opportunity to represent the county at National level. I will of course endeavour to help our new Co. Committee in whatever way I can.
Whatever the future holds I would like to say that it has been an enormous honour to have served as County Chairman and I would like to express a special thanks to all who have worked so hard during my term, to keep the GAA alive and well in our county. Mo buíochas libh go léir.