An Interview with Tony McManus
December 11th, 2009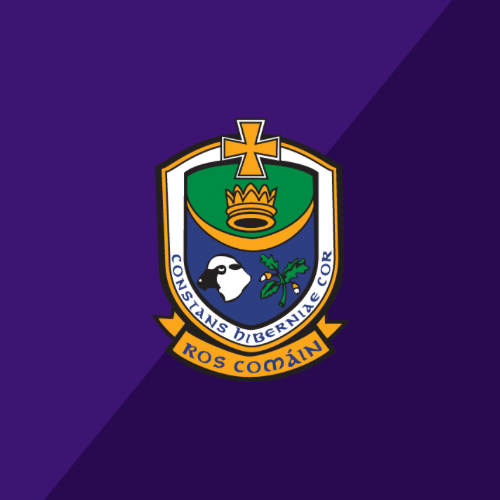 (Interview by Michael Fahey, then County PRO, in Summer 2009)

Tony McManus, a former Clann Na Gael player, holds a record 14 county senior championship medals, winning his first one in 1976 and his last in 1993. He also has won 7 Connacht Connacht club titles and played in five All Ireland club finals At inter-county level he played senior football with Roscommon from 1977 until his retirement in 1993 and won six Connacht senior championship medals as well as Connacht minor and u21 medals. In 1978 Tony won an All-Ireland u21 medal with Roscommon. While a student at UCD he played in five Sigerson Cup finals winning three and was captain of the successful UCD side in 1979.
Tony how did you become involved in football?
Tony McManus It was always a big thing in my life. From the age of 10 or 11 I started playing with Clann na Gael U12s. I lived beside the pitch in Johnstown. My father was always very interested in football. He didn't play but as I grew up he was always on the sideline, always going to matches. My older brother Pat played for Roscommon and later played for Meath while my other brother Eamon was also playing.
What are your earliest memories of playing for Clann?
At underage for Clann, I was a small nippy corner forward. I began at U12 and went on to play U14 and U16. I always remember Paddy Nicholson who brought us to matches in the back of his van. He wouldn't collect us at the house so we had to walk a mile to the heard of the road as Paddy didn't want to take us away from farming or hay. Five or six of us always went in the back of Paddy's van.
When you played underage with the club was their any formal coaching done with you?
There was coaching. Tony Whyte was over us at underage. He was very thorough. On certain evenings he would confine us to our weak leg. Afterward he would be very proud of the fact that my left leg appeared stronger than my right leg. Tony was certainly coaching us before coaching became popular. Every evening he had a particular point to make to us.
Was Clann successful at underage during your period playing with them?
We won all grades up to and including minor. We won two minors and in my last year as minor we did not win as we hadn't a great team.
You made the transition from underage to senior rapidly.
I played as a17 year old against Roscommon Gaels shortly after they played in an All-Ireland final. As minors we played with the seniors and intermingled. I hadn't trained with the seniors. A week and a half after that mixed game I was playing along with the seniors.
Clann had a remarkable record the late 70s and the 80s. to the early 90s.To what do you attribute this to
Of the two minor winning teams that I played on only myself and Mike Keegan came through. The older lads were there and the younger fellows came through. As a group of us came through we gradually added more to it. I have to say that the first two county titles we won, in 1976 and 1977, we were average. We were never going to win an All-Ireland.
It is also important to pay tribute to the two managers we had during this period- Tony Whyte and Donie Shine. Both brought different things to the team but they had a very thorough and professional approach to all we did. This was very important to our success.
The first year we got to the All-Ireland in 1983 we were lucky to get to the final . We robbed St Galls in the semi-final and were not good enough to win the final. I was carrying an injury into the semi-final and final.
After that, we started gaining confidence. In club matches in Roscommon, we started to move the ball from one end of the field to the other. It started to develop. It didn't happen suddenly. It was not until the mid-1980s that we started to become competitive at All Ireland level.
Was that because you were winning Roscommon and gaining experience at Connacht club level?
Winning a county title is always important. The first title in 1976 was special. We were the underdogs and that made it even more special. After one or two county titles you get a taste for Connacht. You are not just thinking of Roscommon. Someone once said that it now gets serious.
Confidence grows in you and Connacht becomes a bug and you need to start winning. I used to start looking at other county results and see who was winning them. A new team would certainly not be equipped to take us on. You need to have the experience of winning in Connacht.
Players grow old; they tire. Physically you grew old but your attitude and determination remained. Can you explain why this was so.
There are two different levels-club and county. In the mid-80s Roscommon were playing terribly badly and took time to re-emerge. Clann were always good. We were competitive. It was always nice to go back to the club after the county were beaten. We were playing good football. While we didn't win them, we were in All Irelands
Did Roscommon's lack of success help Clann?
I don't know. It never changed my attitude. There were certain times during the year when the county came first. This was never an issue with me. There was always a clear dividing line about which was most important. If the county was coming up that was it. The club then would then have you back fitter than ever.
When it came to the other side and Clann were playing the club and Roscommon were playing their League games I never missed playing a Roscommon league match because of Clann. During that period I missed one league game due to injury and I came on as a sub when I shouldn't have.
You cannot say club or county. There are certain priorities at certain times. I see and hear nowadays when clubs are in the championship they don't play county. I am glad that didn't happen in my day.
The six-in-a-row in Connacht. A remarkable achievement. What was the secret?
Basically we had a great attitude. If we went to Castlebar or Ballina we were confident. If you are champions you are confident. We lost four in a row All Ireland finals. The biggest loss was the first of those against St Finbarrs. We should have won that one. And if we won we would definitely have won more.
I remember when Burren played us in 88 and we played great football that day. After losing to the Burren, Shorty Treanor told us that at half time in that final the Burren manager told his team to just give it a go as they already had a title and put pressure on us. They did this. We had that one in the pocket but the fear of losing cost us.
Did the pressure of having to win get to you in the end?
It did. It was getting harder and harder. The pressure was getting bigger and bigger each year.
How did Clann come back each year and go back to Croke Park
In Roscommon while each match was important it didn't require the same effort as for Connacht and All Irelands. We always got a couple of matches to recover form All Ireland defeats. So you got to a county semi final or final and you were up for it. If you got hit by a good team early on then you are in trouble.
So not winning All Irelands was due to the ghosts of defeat
Definitely. In the final against Baltinglass we were odds on to win. I had a feeling we were vulnerable. The other defeats were hurting us. Croke Park on St Patrick's Day had become a bit of a mountain.
That Clann side had a huge bond. How did that develop?
This developed through winning county and Connacht titles. We hung out together, we were very close. We were spending our lives together; so we were always together. When we won the Connacht six in a row we spent Christmas together training. So at that time we were always together-a big family.
Does any victory in that period stand out?The 1988 semi final win over Portlaoise and the 1989 semi win over the Burren.
Portlaoise had beaten us in a final and had shown little or no respect to us so that was sweet.
In Connacht, the final win over Knockmore was memorable as we played as good a game as we ever played that day.
In club football in Roscommon were there players who were on a par with you?
The county players that I played against were special. They could give you plenty to think about
At Connacht level, it was the same. There was nobody I feared.
You played in five Sigerson finals. What do recall of this?
I went to UCD and was one of the few Roscommon players in the place. I got on the Freshers team in first year. A lot of big names from minor football were in that year.
Eugene McGee was our manager. He was special. I really enjoyed my spell with him. You never really knew where you stood with him. When you played well he could eat you in case you got cocky and if you played poorly he subtly build you up. He had a great way with players. I was lucky to go to UCD with a great bunch of players but Mc Gee always said that it was to play football and had nothing to do with veterinary!!
When did you first play senior with Roscommon?
I came into the panel in 1976 and my first game was in the Gael Linn cup. I didn't play championship in 1976 and made my debut in 1977.
What was it like to join a team that were beginning to emerge as a force?
It was great. I wouldn't have been overawed. I was welcomed. Dermot Earley was delighted to see young fellows coming through.
That team lost three All Ireland semi-finals and the 1980 final Have you any regrets?
I would have always said that the 1980 defeat was down to losing the semi final against Dublin in 1979. I remember going into the 79 final and meeting some of the Dublin players. Anton O'Toole said" we shouldn't be here. I should be ye."
We would have lost to Kerry in 79 but the experience would have won 80 for us.
The 1980 defeat seemed to have dealt a mortal blow to that side
Losing in 1980 was a severe blow. Everyone knew that we should have won in 1980. A lot of things came out in that one. The referee was poor. He felt intimidated by Kerry. They were street-wise. They dictated to him. After the game Dwyer and Spillane said things that rankled and still do.
The 80s were barren years. Did you feel like throwing in the towel?
No it never occurred to me. I could go back to the club and perform.
The late 80s and early 90s saw a remarkable turnaround. How did this happen?
Marty McDermott was a thorough manager. He moved the preparations up a gear and we were unlucky. In 1990 we were learning. I had a goal disallowed that day. A team on the way up needs to get the breaks. 1991 was one that got away.
What players at county level stand out?
Pat Lindsay was one. His attitude was tremendous. I marked him many evenings in training and he was phenomenal. When Pat left we lost a huge influence. Dermot Earley brought a presence to the team while Harry Keegan had a big influence. John O Connor, Michael Finneran and I had a special bond as we came through together.
The Kerry team of the 70s and 80s was exceptional. I marked John O'Keefe a few times. A tough player. Paidi O'Shea was a proud, tough player but very fair. Galway's Seamus McHugh another tough player, a tight marker. Again always fair.
Did you regret retiring?
No. I had come to a stage where I felt I wouldn't miss being out there. No, no regrets.
I tipped Western Gaels at the start but then fancied Castlerea. I will go back to Western Gaels. If they get the silly things out of their play they are good enough to win it.
Finally, can you see Roscommon returning to the top tier of counties in the near future?
Certainly. Our underage structures are good. We could have won the last two Connacht minor titles. This losing factor is there again but at underage a lot of good work is being done. It is now a size thing with us and that is something we have to work on and maybe go for a bigger player. However I would be very hopeful.