Babhta Ceannais Scór na nÓg Ros Comáin 2023
March 30th, 2023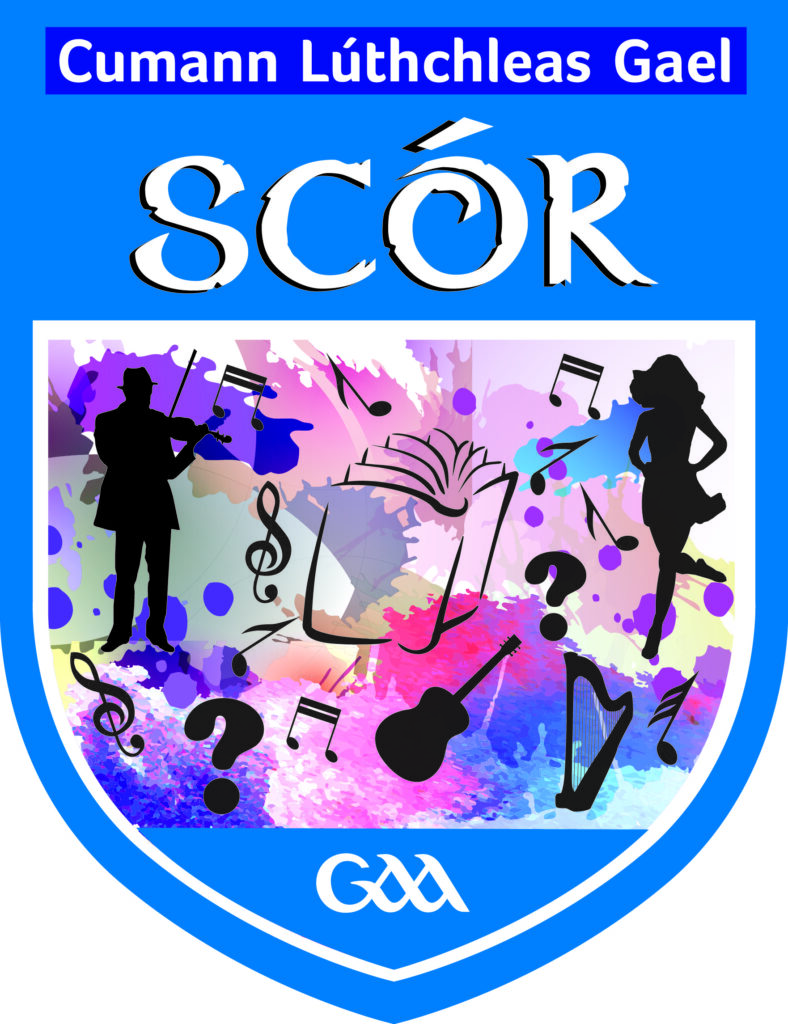 This year Scór is celebrating 50 years of the juvenile competition, Scór na nÓg.
While the Scór competition was established following Annual Congress on Easter Monday 1969, they didn't seperate into Scór na nÓg and Scór Sinsir until 1973. Roscommon GAA also established its first Scór Committee in 1973 with St. Aidan's man, Phonsie Tully, as Chairperson and Oran's Michael Kelly as secretary.
Last Saturday's Scór na nÓg County Final was a wonderful occasion which truly showcased the talent in our Roscommon clubs. A brilliant atmosphere of friendly rivalry exuded around the always hospitable Elphin Community Centre. A packed house was treated to a stellar spectacle of music, song, dance and drama.

The first event for decision was the Tráth na gCeisteanna. After the initial stage round, Kilglass Gaels, St. Michael's and Athleague/Tremane, emerged as the top three to advance to the stage final where Kilglass eventually took the spoils.

In the Rince Foirne, Athleague/Tremane, Castlerea A and Band Kilmore, battled it out in a great contest. Castlerea B retained the title they won last year.
In a hotly contested Solo Singing event, Ciara Collins of Kilmore, Shauna McGrath and Anna McGrath from Ballinameen, all gave excellent renditions of their pieces but it was St. Dominic's Gemma Casey who took the spoils for a second successive year.
Also putting titles back to back was Matthew Ffrench of Kilmore. His performance in the Recitation/Storytelling fought off the opposition of Elphin's Henry Gunn, AilbheGlynn-Desmond from Padraig Pearses and Eabha Nally of Roscommon Gaels.
In the Ballad Group Section, the Kilmore club claimed their second victory of the night and in doing so beat off superb deliveries from St. Dominic's, St. Michael's and Athleague/Tremane.
Undoubtedly the strongest competition of the night was the Novelty Act. Four very polished teams of actors from Padraig Pearses, Elphin and St. Dominic's really entertained the audience. The county title went to the St. Dominic's A team.
The Ceol Uirlise was a keen contest between Padraig Pearses, Kilmore, Athleague/Tremane and St. Michael's. The title went to St. Michael's, a return to the winning ways in Scór na nÓg for the North Roscommon club after many years of an absence.
The night was concluded with rousing footwork in the RinceSeit where Elphin B emerged victorious as the expense of Kilmore, Castlerea and Elphin A.
Roscommon GAA County Board Chairman, Brian Carroll, presented all of the winners with their trophies and for the first time a County Champion Cup was given to each club for their victory.
Coiste Scór Ros Comáin commends all of the competitors, their mentors and clubs, for their wonderful preparation and cooperation on Saturday night. We congratulate our winners and wish them good luck as they prepare for the Connacht Final on April 16th in the Town Hall Theatre, Ballinasloe.
A huge word of thank you to Elphin Community Centre, Elphin GAA and Northern Harps Ladies GAA, for the wonderful hosting of the event. Thank you also to our sound man, David Nugent, Fear a Tí Cian Diffley and to the adjudicators, for ensuring the event ran smoothly.