Big names lined up for free Club Rossie event on Thursday
March 19th, 2018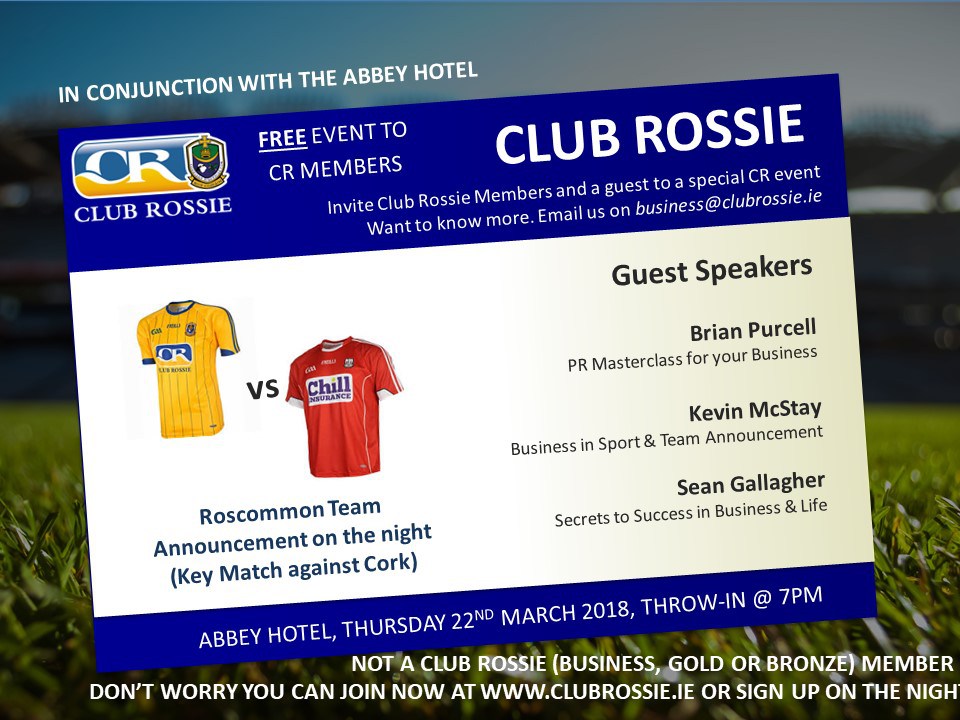 In business the importance of having a good PR plan without having to give away your left arm and right leg is something Owners and Managers all would love to be able to do in their businesses. Wouldn't it be great to learn from others who have gone through it all before to save on costly mistakes?
Well Club Rossie Business has just gone and done it again with a great line-up for our first big event of the year, which will be held in the Abbey Hotel Roscommon, this Thursday, March 22nd at 7pm. Three speakers from the worlds of business, communications and sport have been lined up for what promises to be an informative and entertaining evening.
Brian Purcell from Big Picture Communications is a renowned expert in PR. A judge on "The Apprentice" show that ran for 4 years on TV3 and now a radio presenter, Brian is one of those down to earth guys that you can make a link to straight away.
Sean Gallagher is an entrepreneur and established Smarthomes, Ireland's largest home technology company, and was a finalist in the EY Entrepreneur of the Year competition. He became a household name as one of the "Dragons" on RTE's Dragon's Den and currently champions the cause of the unsung heroes that are the next generation of business leaders in his series of columns in the Sunday Independent.
Finally wouldn't it be nice to be the first to know who will be selected for the Roscommon Senior Football team for the crucial game against Cork next Sunday? Kevin McStay, who needs no introduction, will be on hand to look ahead to the big game.
All 2018 Club Rossie Members, from Bronze to Business are invited to come along on Thursday and take in all that the speakers have to offer. If you are not a Member yet you can join now at www.clubrossie.ie or sign up in the Abbey Hotel on Thursday evening – Cash, Cheque, Card, Direct Debit forms and online bank transfers will be accepted on the night. Seats will be available on a first come, first served basis and the advice is to arrive early to avoid disappointment.
To find out more about the event email business@clubrossie.ie or call/text 083 8730604 and the full range of Club Rossie Memberships can be found here