Fionn Cusack wins National One Wall Title
July 3rd, 2016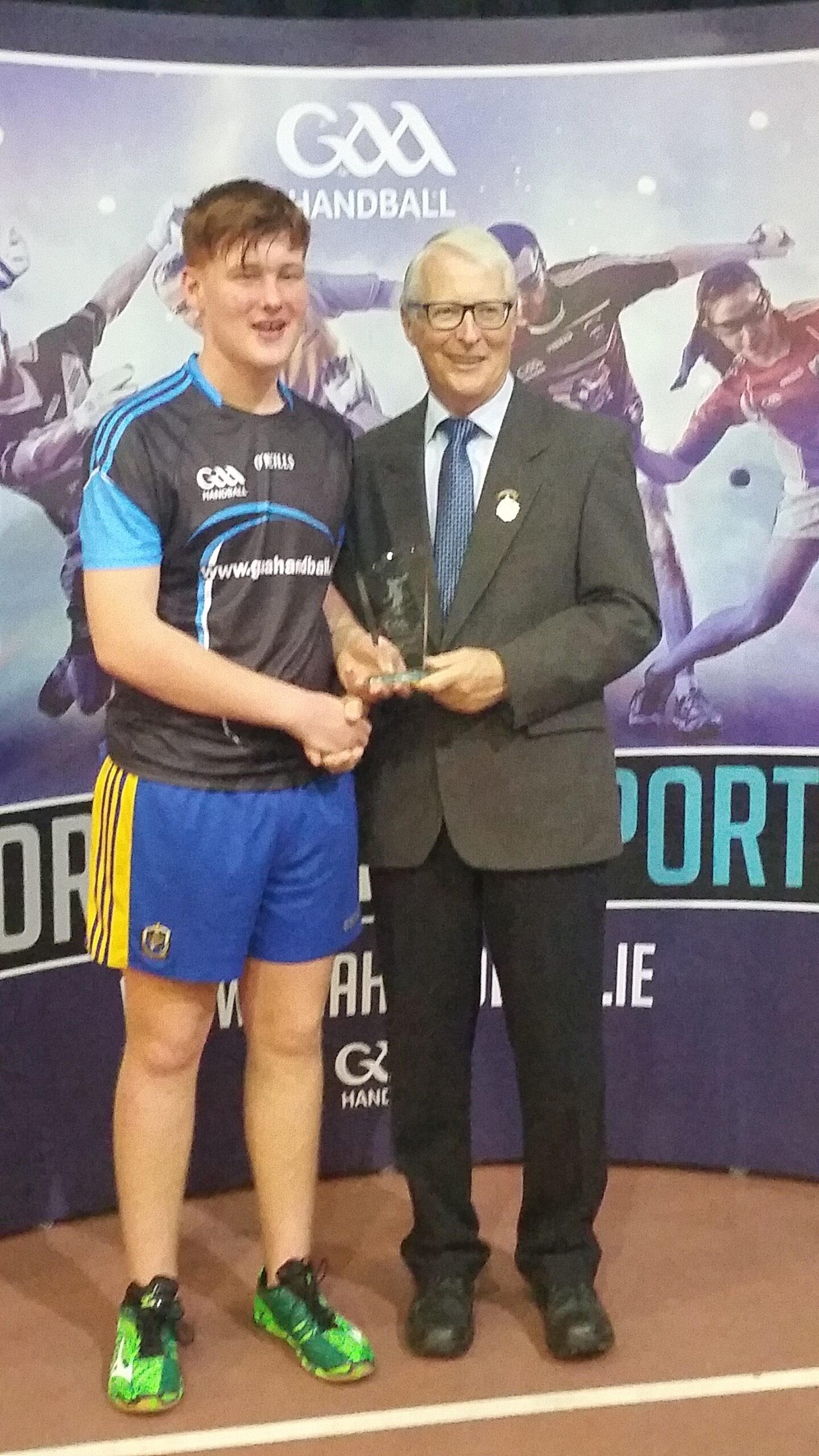 The 2016 Onewall Nationals held in Breaffy House, Castlebar last weekend were a huge success attracting a record 420 entries and featuring some outstanding handball.
St. Coman's had two winners from completely different ends of the spectrum, with Fiona Tully adding to her already extensive collection while Fionn Cusack took his very first national title.
Fionn Cusack has really taken to the Onewall code and this year he and his brother Oisin upped their training significantly and have reaped the rewards with a string of very good performances in Onewall tournaments culminating in Fionn's Boys 15&under 'B' title. Fionn was never really troubled in this event and won all his matches with a bit to spare. Even his final with Cork's Anthony O'Connell (who has beaten Fionn before) was a straightforward affair with the big Strokestown lad leading the whole way, playing some lovely controlled angled shots mixed with powerful kills.
Big brother Oisin will probably regret his overly-cautious start to his Boys 17&under 'B' semi-final against Cavan's Caolan Smith. He only opened up and played in the aggressive manner required for Onewall when the match was going away from him and ended up dominating the last five minutes of the match before going down by three points.
Lauren O'Riordan made a welcome re-appearance at the Nationals but was beaten in a fine game in the Ladies Open by Armagh's Niamh Coleman.
Aengus Cunningham had a very good win in his first match of the Silver Masters grade against Clare's Fergal Coughlan, but was then beaten by perennial rival Niall Kerr in their semi-final in a high scoring affair.
Linda Connolly reached the semi-final of the Ladies 'B' grade but was well beaten by Donegal's strong Avril McNamee.
Aoife Tully, Laura Mannion, Carragh Kennedy, Siobhan Treacy, Aisling Treacy, Thomas O'Brien, Philip Halliday, Eanna Moran, Magomed Yakhyaev, Dylan Hanley and Gareth Delaney all lost early in their respective grades with only 'Mog' featuring in the Doubles Plate where he teamed up with Leitrim's Cormac Scollan to reach the final of the Boys 15&under.
Finally, the exhibition Boys 11&under event featured the budding partnership of Rory Carthy and Irslam Yakhyaev who featured strongly in the top group of the round-robin format. Rory's younger brother Eoghan also teamed up with Leitrim's Darren Wrynn and played very impressively.