Two Roscommon GAA clubs receive recognition as Healthy Clubs
November 7th, 2019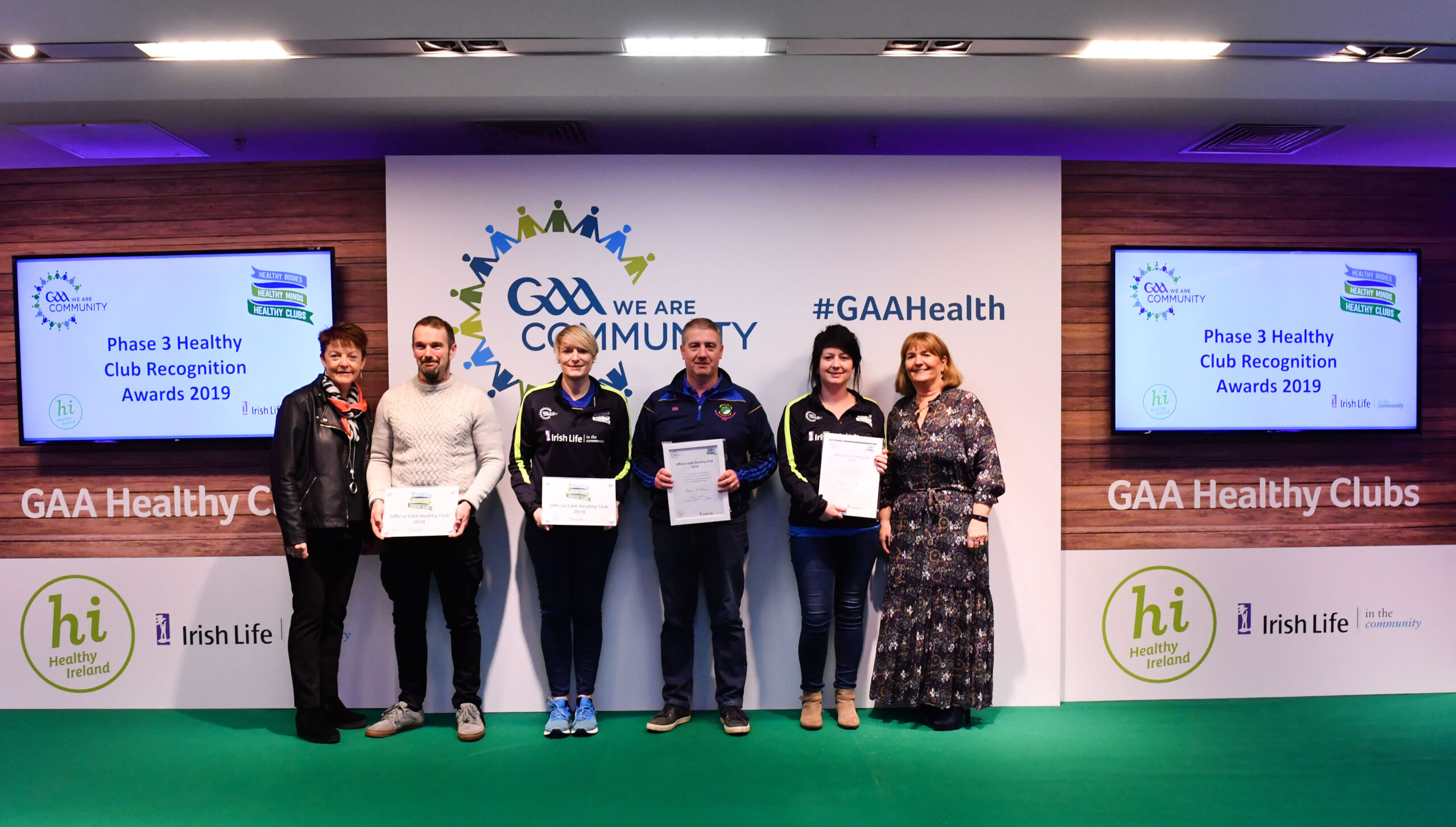 Two Roscommon GAA clubs receive national recognition as official GAA Healthy Clubs in Croke Park
The award-winning Healthy Clubs Project (HCP) aims to turn clubs into hubs for health in their communities
Phase 3 of the Healthy Club Project saw over 170 Healthy Club Initiatives ran in 84 GAA Clubs across Ireland
With almost the same number of GAA clubs as GPs across Ireland, the project offers a new setting in which to deliver health promotion and interventions
A special ceremony which ran alongside the GAA's National Healthy Club Conference in Croke Park on October 5th, saw 84 GAA clubs recognised as official 'Healthy Clubs' on the island of Ireland. The day was about giving recognition to the clubs and volunteers, by individually acknowledging the contribution that each GAA Healthy Club makes in bringing the vision for Healthy Ireland to life: where everyone can enjoy physical and mental health and wellbeing to their full potential.
Two Roscommon GAA clubs Clann na nGael and St. Croan's can now proudly fly a flag above their grounds (endorsed by both Healthy Ireland and the Public Health Agency in NI), letting their members and communities know that they value health and wellbeing as much as leagues and championships.
In January 2018, almost 300 clubs applied to participate in Phase 3 of the project (just 60 participated in Phase 3 between 2015-2017). Many cited the dearth of services in their communities that are tackling issues such as obesity, sedentary lifestyles, mental health and suicide. They wanted to be part of the solution. Clubs engage with their members and community before identifying health themes upon which to focus on. Most common include physical activity for non-playing members; healthy eating; emotional wellbeing; engaging older members of the community; youth development; smoke free clubs; gambling, drug, and alcohol education; and inclusion and integration. These two progressive GAA clubs are amongst the first in Roscommon to receive national recognition. Their various health and wellbeing initiatives have had a tremendous impact on their clubs and wider communities.
The innovative Healthy Club model was developed in partnership with Healthy Ireland, the HSE's health promotion division, the National Office for Suicide Prevention, and is supported by Irish Life through a CSR investment. In an era of unprecedented societal health challenges, the Healthy Club Project aims to harness the potential of the GAA club setting to deliver evidence-based health promotion information and interventions, backed up by appropriate policies and partnerships. Its potential to be replicated by other sports is currently being explored by a working group involving the FAI, IRFU, and Athletics Ireland.
John Horan, An Uachtarán Cumann Luthchleas Gael acknowledged this at the recognition day in Croke Park, "The 84 Healthy Clubs recognised today have gone above and beyond what is normally expected of a sports club. Health and wellbeing is core to what the GAA is all about and these clubs help bring that to life. I'd like to thank our partners, Healthy Ireland, the HSE, National Office for Suicide Prevention, the Public Health Agency, and Irish Life, for helping to make the Healthy Club project the success it is. We look forward to growing it from strength to strength."
Teresa Kilmartin, Chief People Officer, Irish Life said, "Irish Life are delighted to work with the GAA on the Healthy Club initiative. The GAA, reaches into every community on the island of Ireland and has a significant role to play in the health of the nation through its promotion of Gaelic Games. The association's Healthy Club initiative brings a new dimension to this work. It enables people to access health in an exciting new way. We believe this work has the potential to improve the future health of communities across the country."
There are numerous benefits to clubs that take part in the GAA Healthy Club Project including exclusive access to Healthy Club resources and support. The independent evaluation by Waterford IT's Centre for Health Behaviour Research of Phase 2 of the Healthy Club Project revealed its potential to increase membership, improvements in health promoting activities, better opportunity to link the local community with club activities and opening up new funding avenues all the while enhancing the health of the nation and ensuring a healthier future for everyone.
The GAA Healthy Club Project is now open to new applicants. GAA clubs are invited to submit expressions of interest to join the next phase of the Healthy Club Project which will commence on February 1st, 2020. There are 150 places available to interested clubs. The closing date to submit completed applications is Friday, 15th November 2019. Expression of interest forms can be completed online on www.gaa.ie/community
For more information please contact the GAA Community & Health Team on community.health@gaa.ie