Be Ready To Play
February 27th, 2021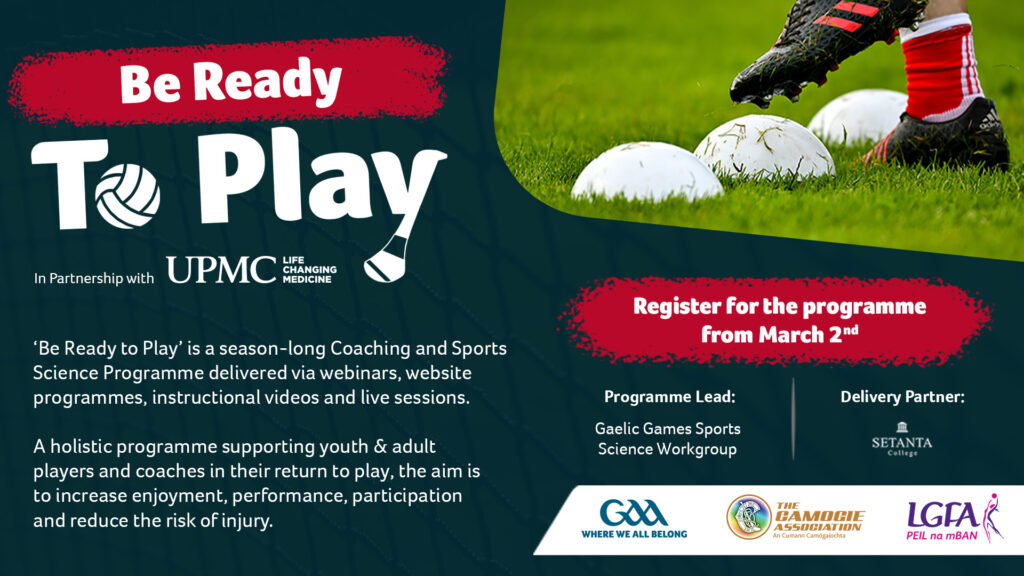 The Be Ready to Play programme is to be delivered in 2 week blocks beginning with the live webinar on Tuesday 2nd March 2021. On Wednesday the 3rd of March the athletic development programmes for weeks 1 & 2 for each stream will be published into the relevant zone. Subsequent webinars and athletic development programme content will be delivered every 2nd Tuesday and Wednesday respectively. A schedule for the biweekly webinars topics and presenters will follow shortly.
The Programme will include:
Athletic Development Programmes updated fortnightly via the 3 courses linked above (Instructional Video & Live Sessions)
Monthly Coach education webinars (GAA Coaching Experts & Guests)
Monthly Sports Science support webinars (Every Sports Science Discipline covered)
Areas covered in the webinars will include – Coaching, Athletic Development, Psychology and Wellbeing, Nutrition, Performance Analysis, Skill Acquisition & Biomechanics, Physiotherapy and Injury Prevention.

To view the launch webinar and to register, click the link below.
https://learning.gaa.ie/bereadytoplay