Club Rossie Draw Results
August 10th, 2019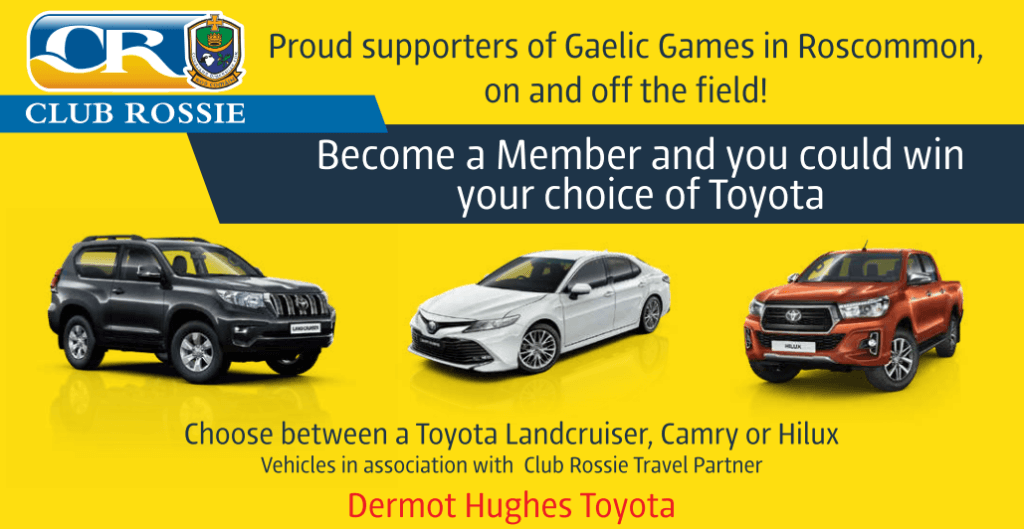 The Roscommon GAA / Club Rossie members draw was held last evening in Hannon's Hotel Roscommon. It was a fantastic success and all involved are very grateful to all the people who contributed to the draw.
The actual ticket sales were in excess of €270,000, with 571 Gold Memberships and 1,398 Bronze memberships bought by members of Club Rossie. In addition, 83 businesses have joined Business Club Rossie.
The draw results are as follows
1st Prize – a Toyota car of choice from Dermot Hughes Cars
Roscommon Gaels Pio Tully
2nd Prize – €1,000 cash
St Dominic's Jimmy Elsa and Lisa Murray
3rd Prize – €1,000 cash
St Ronan's David Duignan
4th Prize– €1,000 cash
Tremane Michael Keaveney
5th Prize – €500 cash
Four Roads John Mee
6th Prize – €500 cash
Kilglass Gaels John G and Nuala Diffley
7th Prize – €500 cash
Roscommon Gaels Derek Dolan
8th Prize – €500 cash
Tulsk Dorina Hanly
9th Prize – €500 cash
Elphin Valerie Byrne
10th Prize – €500 cash
Elphin Michael Connellan
Congratulations!
Special Draw for our Business and Gold Members
2 All Ireland Hurling tickets –
Padraig Pearses Ann Lohan
2 All Ireland Football tickets –
St Josephs Padraig Brennan
Speaking after the draw Roscommon GAA County Chairman Seamus Sweeney was fulsome in his praise of Club Rossie for all the work that they had done in fundraising for Roscommon GAA this year. In addition, he thanked all the clubs who had sold tickets and especially the people who had bought tickets. "By being involved you have all assisted Roscommon GAA to accomplish so much and remember the best is yet to come," he said in conclusion.