FOUR ROADS UNDER 14 HURLERS CLAIM DOUBLE TITLE
September 27th, 2016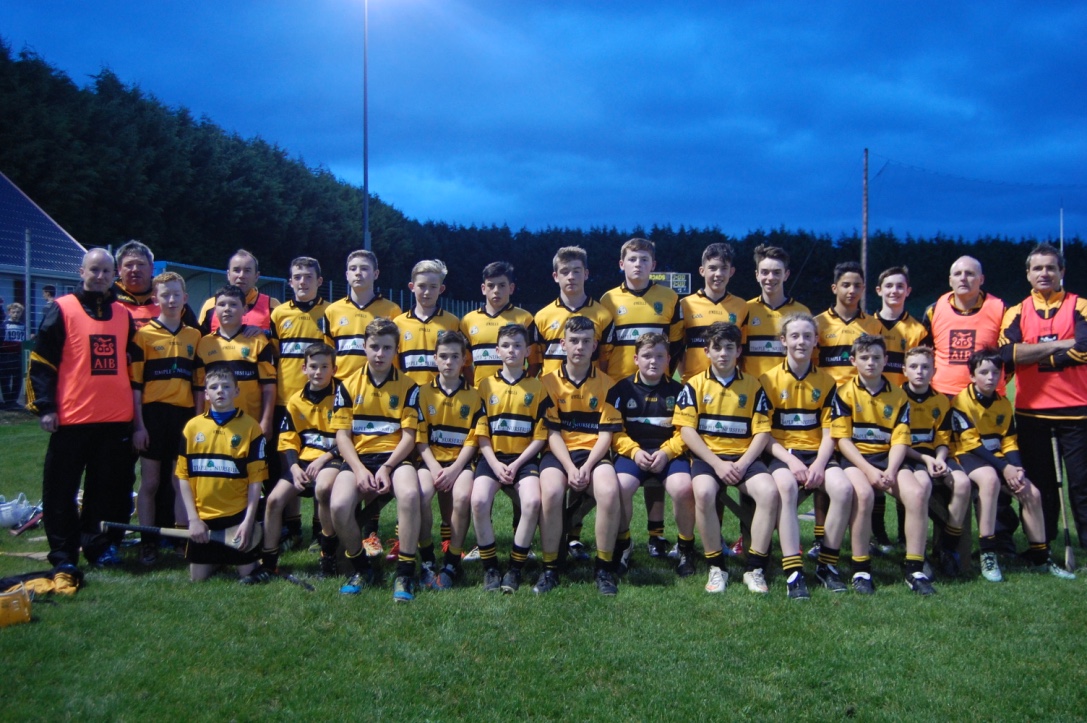 The Four Roads Under 14 hurling team claimed the Eurona Brisknet Sponsored Under 14 League title ,in Athleague under lights on Friday night last 23rd September, with a well earned victory against a superb Padraic Peasrses team. The final score of 1-07 to 2.02 reflected the close nature of the contest.
There were tremendous performances all over the field for both sides.
The strong breeze was a determining factor on the night with both teams finding it difficult to convert scores, particularly in the first half.
It took 16 mins before the first score of the game was recorded and this came for Jack Mannion of Four Roads.
But Padraic Pearses, aided by the wind, responded with a very good move from Sean Canning that resulted in a save from Johnny Meares but the ever alert Joseph Kelly capitalized on the rebounded save and sent the sliothar blasting into the net.
This was a very fine performance from these young hurlers and both teams have to be commended for their fine man-to-man marking. The determination to win from both teams was evident all throughout the game with superb hooking, blocking, free taking, sidelines and overall hurling skills.
Scores were hard come by in the first half with Padraic Pearses adding a point from Eoin Colleran in the 25th minute. This left the score at half time Four Roads 0.1 to Padraic Pearses 1.1
Vincent Burke threw in the sliothar to start a pulsating second half.
Trevor Fallon scored a point from a placed ball after 2 minutes to narrow the gap to 2 points.
But Cormac Mulry after 8 minutes of the second half put Four Roads ahead matters with a fine goal.
The game remained stalemate for the next 10 minutes with both sides just not increasing their scorelines despite many attempts.
But on the 16th minute Dara Finneran put Four Roads further ahead with a fine point from play and soon afterwards Sean Trundle scored a magnificent point from about 45 metres out and near the sideline to widen the gap to 3 points. They held this lead for the next 7 minutes until Eoin Colleran reduced the margin to 2 points with a well taken free for Pearses against the wind.
Four Roads were not to be outdone and Dara Finneran tagged on another fine point after Adam Donnelly's long range puckout.
Trevor Fallon added two more from frees for Four Roads.
Colleran reduced the gap again on 29th minute with a point from a free. Enda Clogher added another point for Four Roads to give them a 5 point cushion as both teams headed into injury time.
But an expertly taken free by Eoin Colleran ended up in the Four Roads net to reduce the margin again to just 2 points but there was no more time left and the title went to the fine hurlers of Four Roads who earlier in the year claimed the Under 14 Feile title in Roscommon and went on to win the All Ireland shield in their Division in Feile 2016.
Padraig Pearses Team:Luke Walsh , Shane Costello ,Conor Lohan , Jamie Flynn,Thomas Carey,Daithi Carey ,Oisin Flynn,Kyle Blackweir ,Caelim Keogh,Ronan Finn,Eoin Colleran (1.02),James Mooney,Sean Canning Aaron Burke ,Joseph Kelly (1.0) , Conor Costello , Luke Feehily, Oliver Sweeney , Conor Blackweir , Cormac Curley , Martin Glennon, Adam Hynes, Adam Mc Greal, Colm Sheeran , Jack Tumulty
Team Padraic Galvin,Frank Canning,Niall Flynn and Patrick Finneran
Four Roads Team: Johnny Meares, Michael Dillon, Adam Donnelly, Padraig Kelly Mikey Lohan Sean Trundle(0.1) Sean Lynch, Trevor Fallon (0.3) Ruardhi Fallon Cormac Mulry (1.0) Kyle Kelly Enda Clogher(0.1) Jack Mannion, Dara Finneran (0.2) Sean Hynes ,James Mannion, Conor Brennan, Jack Coyle, Ben Kelly, David Gately, Sol Trundle, James Dillon, Liam Og Coyle, Tommy Morris, Callum Coughlan.
Mentors : Damien Lohan, Mike Donnelly, Joe Mulry, Adrian Mannion, John Hynes and John Cunniffe.