Katie is crowned All-Ireland Champion!
February 18th, 2018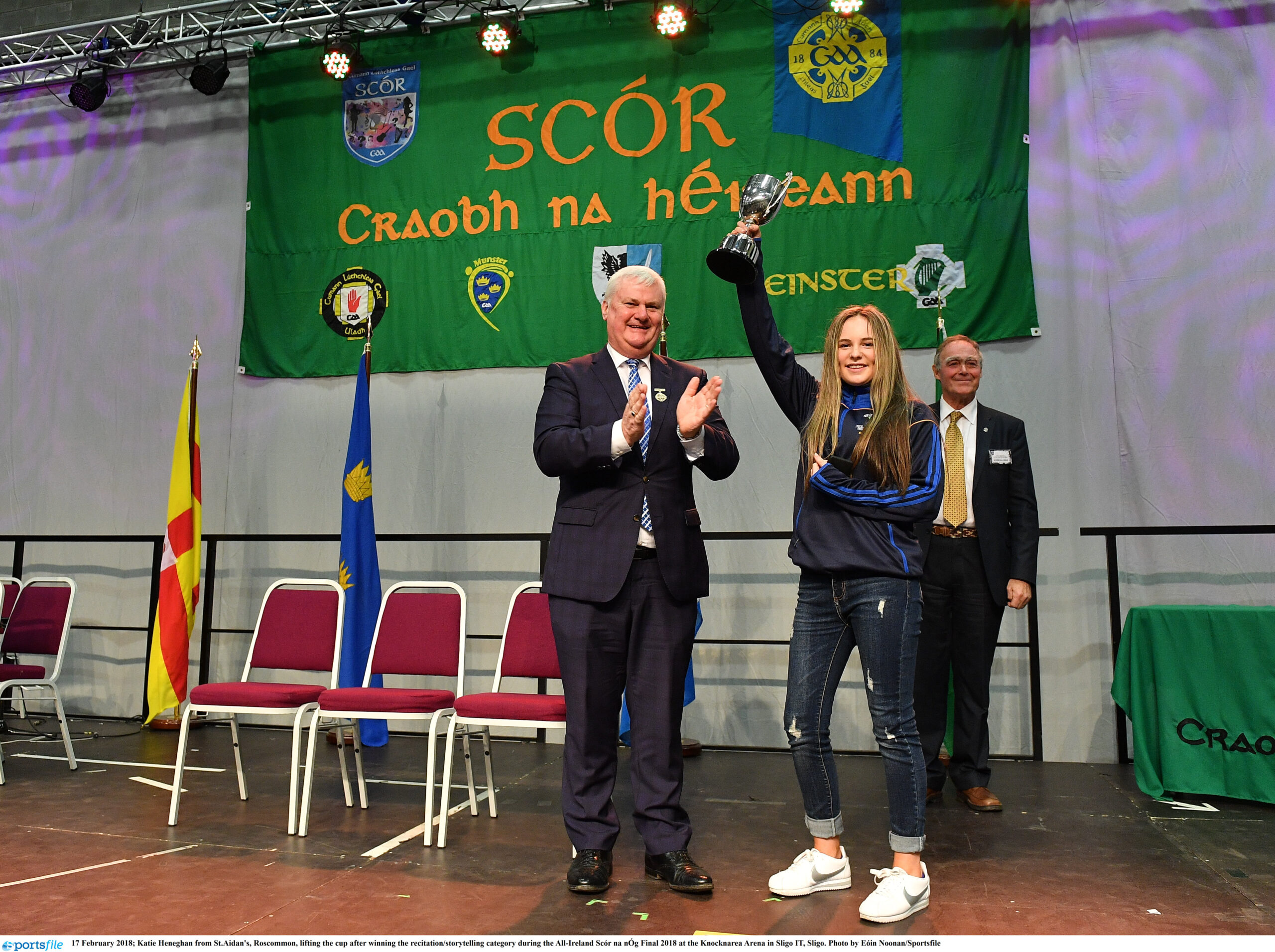 Knocknarea Arena was the venue for the All-Ireland Scór na nÓg finals and a large group of supporters from Roscommon travelled to Sligo IT to cheer on the competitors from St.Aidan's, St. Dominic's & Elphin G.A.A clubs. Winning the All-Ireland title is every competitor's dream and many hours are spent practicing their art in order to achieve their goal.
Katie Heneghan from St.Aidan's was participating in the Recitation/Storytelling Competition. A native of Ballyforan, Katie was hoping for a repeat of All-Ireland final success in the same competition in 2016. She is from a proud G.A.A family where her mother and father have both won All-Irelands in Ladies football and handball. Her uncle Francie is the last Roscommon All-star and Katie is also an accomplished sportswoman playing camogie & football with Four Roads. She was a member of the County U14 Camogie team last summer.
Winning the All-Ireland in 2016 was a very proud day for her club and county. However, this brings its own pressures and it was interesting to see in this year's competition that the Ulster Champion recited the same piece that Katie won the All-Ireland with, in 2016. The competition was very tough with the Leinster Champion & the Munster Champion giving very strong performances. But, Katie has a remarkable talent and can capture the audience and bring her story to life. Her dramatic presence and facial expressions are her secret weapons. When Katie was announced as All-Ireland Champion, there was great applause from the large crowd attending. There was no doubt that she was the firm favourite.
She was welcomed home by her parish at her homecoming in St.Aidan's and was also introduced to the crowd at halftime at the F.B.D League final between Galway & Roscommon. Unfortunately, Katie was the only winner from Connacht this year. St. Dominic's club took part in the Léiriú competition and they were hoping to add another title to the one they won last year. There is such a proud tradition of Scór in the St.Dominic's club and great praise must be given to the competitors and their mentors. They gave a great performance and could do no more. The title went to The Downs, Westmeath who also have a proud tradition.
Elphin took part in the Tráth na gCéist which is a table quiz. This was their fourth year in a row taking part. Cavan were victorious on the day. For those who were unable to travel to Sligo, coverage was streamed live on TG4 YouTube.
Scór Sinsir County Finals will take place on Saturday 3rd March in Kilbride Community Centre at 8pm