Padraig Pearses are the kings of Connacht.
January 9th, 2022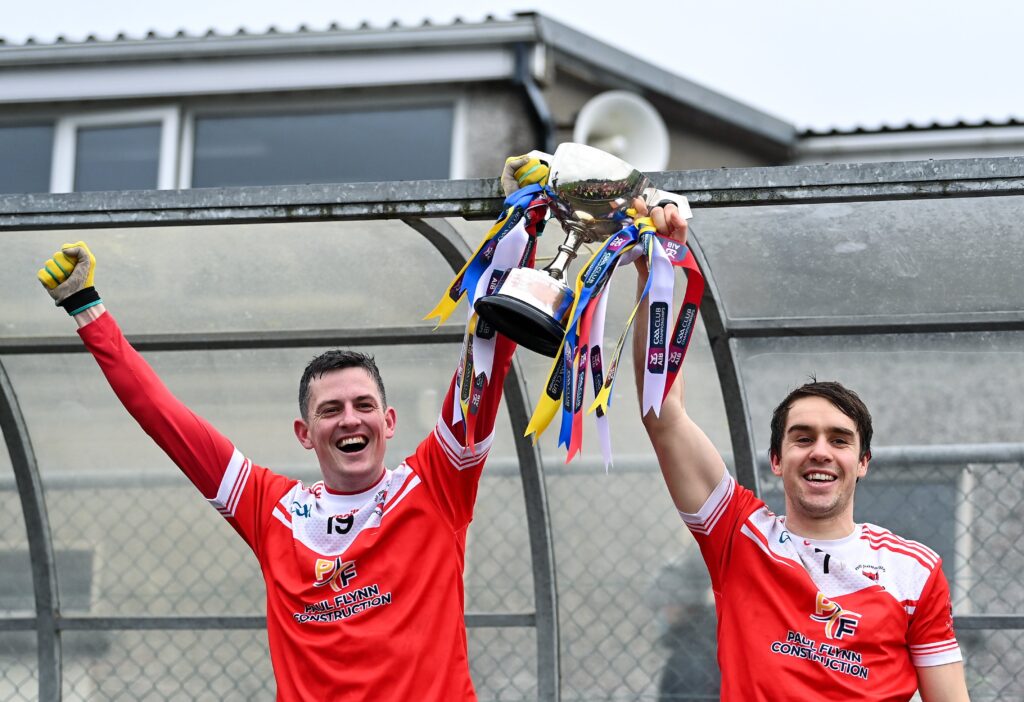 Content credit – GAA.ie
PÁDRAIG PEARSES 1-13 KNOCKMORE 1-11
Kevin Egan at James Stephens Park, Ballina.
A new name will be etched on the Shane McGettigan Cup for the first time in 15 years after Pádraig Pearses held on in the face of a late comeback from Knockmore in a thrilling AIB Connacht club championship final at James Stephens Park in Ballina this afternoon.
Paul Carey's majestic display, featuring five points from play and eight in total, will be seen as the main difference between the sides but overall it was Pádraig Pearses' greater control of the game and their accuracy on the ball that separated these two sides.
Plenty of people in the ground came to this afternoon's game having taken in either or both of the FBD league semi-finals from the NUI Galway Connacht Airdome on the previous two nights, given the involvement of Mayo and Roscommon, but it must have felt like changing sports as they changed gear from watching preseason games indoor, on a fast artificial playing surface, to the physicality and tension of this game.
Two clubs that this year won their second county title in a relatively short period of time showed all their experience and game management expertise right from the start, with Pearses in particular controlling possession incredibly well and showing great patience as they waited for a gap to open up. After nearly two minutes of holding the ball, a long delivery from Lorcán Daly was broken down by Hubert Darcy and ran to Niall Carty, who was dragged to the ground inside the large square.
Darcy duly slotted home the penalty to give his side an early lead, and when Conor Payne and Paul Carey added scores to make it 1-2 to 0-1, it looked like the Roscommon side might kick on to win comfortably.
That all changed when goalkeeper Paul Whelan tried to carry the ball out of his goal, lost possession and was deemed to have tripped Aidan Orme in his bid to recover. A black card followed, and when Orme swung over the free, Pearses faced into a ten minute period before half-time that had the potential to cost them their shot at a maiden provincial title.
Pat Flanagan and his selectors took the unorthodox decision to move full forward Hubert Darcy back into goal, both to preserve substitutions and to have a player comfortable on the ball as their last line of defence, and it worked as Knockmore only outscored them by 0-2 to 0-1 in the lead up to half-time, with Carey striking a brilliant score from the right wing to give Pearses a bit of breathing room at the interval, 1-3 to 0-4.
The gap was the same at the second half water break, even though Pearses played some sublime football in the third quarter, moving out to a seven point lead. Carey was simply unstoppable in this phase of the game, firing over a series of majestic points from a variety of angles, while Conor Payne and Hubert Darcy alongside him worked well and drew frees from a struggling Knockmore back line.
Quickfire points from Orme and Peter Naughton shifted the momentum of the game slightly, and suddenly it was all right back in the melting pot when a delivery from Darren McHale dropped short and Charlie Bourke was able to get a decisive touch and flick the ball past Paul Whelan.
The water break proved crucial for the winners, as they were able to reset and take control of the ball for another lengthy spell, sucking the air out of the home side's challenge before Paul Carey added yet another point from a hooked 30 metre kick.
Emmett Kelly and Ronan Daly were next on the scoresheet, but the introduction of Keith Ruttledge helped Knockmore to come with one last surge. He shot two points and caused a world of problems in the Pearses back line, and on the last attack of the game, there were three points between the sides with Knockmore chasing an equaliser.
The ball fell to Aidan Orme 25 metres out from goal and his powerful drive looked like it might dip under the crossbar at the last second, but instead fizzed over for a point that was of little use to the Mayo champions.
Scorers for Pádraig Pearses: Paul Carey 0-8 (0-3f), Hubert Darcy 1-1 (1-0 pen), Conor Payne, Emmett Kelly, Ronan Daly and Tom Butler 0-1 each.
Scorers for Knockmore: Aidan Orme 0-5 (0-2f, 0-1m), Peter Naughton 0-3, Charlie Bourke 1-0, Keith Ruttledge 0-2, Colm Reape 0-1.
Pádraig Pearses: Paul Whelan; Anthony Butler, Mark Richardson, Gavin Downey; Conor Lohan, Ronan Daly, David Murray; Niall Daly, Conor Daly; Lorcán Daly, Niall Carty, Shane Carty; Conor Payne, Hubert Darcy, Paul Carey.
Subs: Caelim Keogh for G Downey (3), Tom Butler for L Daly (42), Emmet Kelly for S Carty (49), Seán Ryan for Keogh (56)
Knockmore: Colm Reape; Seán Holmes, Adam Naughton, David McHale; Conor Flynn, Kieran King, Marcus Park; Shane McHale, Nathan Armstrong; Connell Dempsey, Aiden Orme, Kevin McLoughlin; Pearse Ruttledge, James Ruddy, Peter Naughton.
Subs: Liam Durcan for Ruddy (21), Charlie Bourke for King (30), Darren McHale for Park (42), Keith Ruttledge for Durcan (57), Kieran Langan for P Ruttledge (60).
Referee: James Molloy (Galway)