Roscommon GAA Scór Sinsir Final 2022 
October 22nd, 2022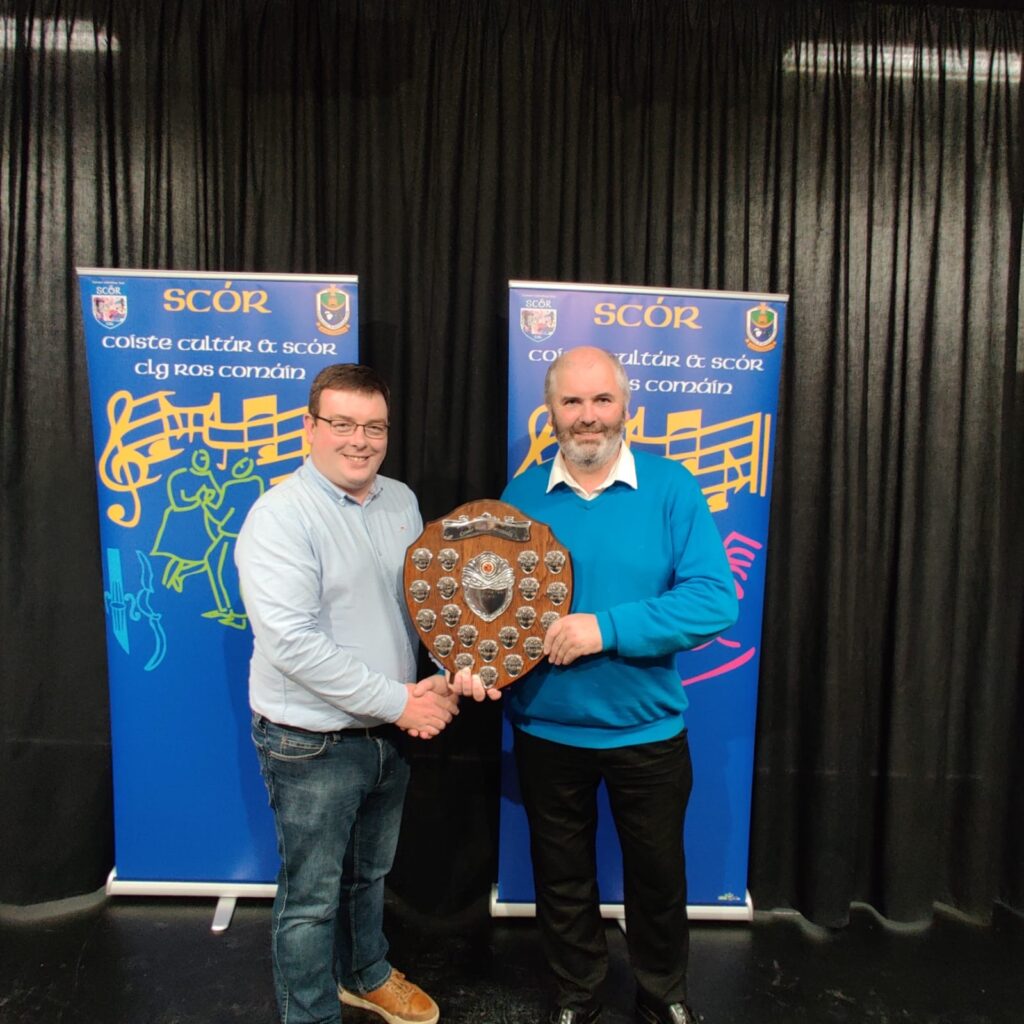 Kilmurry Hall hosted a wonderful display of local GAA talent on Saturday 8th October, as clubs from all over the county contested the Roscommon Scór Sinsir Final. The first final at senior level since early 2020 saw a resurgent entry and interest among clubs, with many making a welcome return or renewed effort to promote the cultural aspect of the association.
The first category for decision was the ever popular Tráth na gCeisteanna. At the initial table quiz round teams from Creggs, Shannon Gaels, Elphin, St. Aidan's, Tulsk, St. Michael's, Kilglass Gaels and Padraig Pearses, took part. Kilglass, Elphin and Tulsk progressed to the on stage final round and after a battle, Elphin took the county title.
As sole entrants in both events, Elphin GAA gave the audience great entertainment with their performances of the 4 Hand Reel and Plain Set and will represent Roscommon in the Figure and Set Dancing at Connacht level.
The Amhránaíocht Aonair was a hotly contested affair with 9 singers battling it out to be crowned county champion. Shauna Keegan (Tulsk), Sarah Keane (Elphin), Eoin Moran (Padraig Pearses), Brianna Lennon (St. Michael's), Sinead Morris (St. Brigid's), Saoirse Murray (Kilbride), Peadar McCaffrey (Elphin) and Ciara Why (St. Aidan's), all gave strong performances but it was Aoife Guckian who won the title for St. Michael's with her beautiful rendition of 'My Belfast Love'.
The Recitation/Storytelling saw Grace Dooley enthral the crowd with her delivery of 'The Good Aul Days', taking a first senior title in many years back to Padraig Pearses. In doing so, she beat off opposition from Evan Gunn of Elphin.
The Ballad Group event was a great competition with St. Michael's taking their second title of the night at the expense of a gallant Padraig Pearses group. St. Micheal's sang 'Follow On' and 'Tá mo Chleamhnas Déanta'.
In the Novelty Act discipline, Elphin, St. Dominic's and Padraig Pearses, gave fantastic entertainment with 3 hilarious sketches. Arguably the competition of the night, St. Dominic's took county honours with their performance of 'Heaven can Wait'.
St. Ronan's and Padraig Pearses gave lively renditions of their tunes in the Ceol Uirlise competition. Reigning Connacht Champions in this event, St. Ronan's will again progress to the provincial final as their delivery of 'The Monaghan Air' and reels 'The Milky Way'/'Tension on the Shore', won the adjudicators approval.
Thomas Murray, Vice Chairman of Roscommon GAA County Board and Cathaoirleach Coiste Náisiúnta Scór, presented the winners with their prizes and in doing praised the work being done to promote Scór in the Roscommon.
With best participation in both Scór an nÓg and Scór Sinsir, Elphin GAA won the Scór 'Club of the Year' award. MichealGunn accepted the accolade on behalf of Elphin.
Coiste Scór Ros Comáin wishes to thank Kilmurry Hall committee for their excellent hosting of the event, Midland Sound for the amplification and the adjudicators, who travelled from Cavan. A minute's silence was held at the start of the night in memory of Mrs. Eithne Lavin, who represented the Tulsk club in Scór for many years and Donal Feelely of St. Dominic's, a former Cathaoirleach of Coiste Scór RosComáin, ar dheis Dé go raibh a n-anamacha.
Our County Champions now go forward to represent Roscommon in the Connacht Scór Sinsir Final which will be held in the Town Hall Theatre Claremorris, on Sunday 23rdOctober. The Tráth na gCeisteanna will begin at 2.30 and stage events start at 4 o'clock. Well done and thank you to all of our clubs for their wonderful efforts to promote Scór and the best of luck to those who progress to provincial level. 

RosComáin abú.